Here's a little Grey's Anatomy spoiler / news item from E! Online's Q&A today, pertaining to Owen and Cristina, as well as another piece of information regarding Private Practice that may offer a hint at the shows' spring crossover episode(s) ...
Q: I love Major Hottie on Grey's Anatomy! Tell me he's staying forever!
A: Major Hottie's staying on Grey's Anatomy for the duration of the season at the very least. For most of the year, when Owen's not focused on Cristina, he just keeps his head down and works, but we'll see him in at least one other social relationship: a McBromance! Kevin McKidd said: "I think Owen and Derek are going to connect at some point in the season. I think he goes to Derek for help, to try to figure out what it is that's wrong with him and why isn't he sleeping... I don't think there's any danger, the problem is more in his head."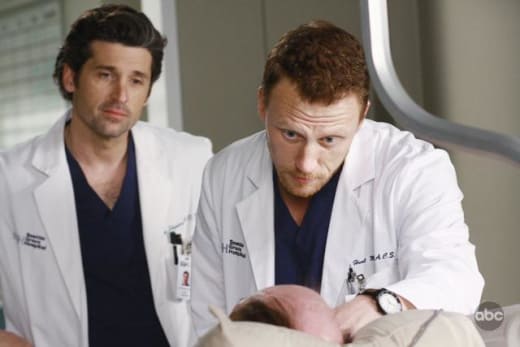 Q: Can you share any info on Private Practice? It's gotten superaddictive!
A: Grant Show begins his six-episode guest arc on this Wednesday's episode of the Grey spin-off, and E! just chatted him up, so check back that morning for exclusive scoop from Mr. Archer Montgomery Forbes himself. The informed speculation is that Grant Show's character, Archer, is part of the big spring crossover between Grey's Anatomy and Private Practice, and more significantly, he may even be the reason for the big spring crossover... We'll see!
Steve Marsi is the Managing Editor of TV Fanatic. Follow him on Google+ or email him here.