Grey's Anatomy Spoilers: Izzie-Denny Twist Revealed!
Steve Marsi at .
Grey's Anatomy watchers who don't want to know the big secret behind Denny Duquette's afterlife love affair with Izzie Stevens should turn back now.
Michael Ausiello of EW has gotten to the bottom of it.
It looks like creator and executive producer Shonda Rhimes wasn't lying when she said last month that a brain tumor wasn't what was causing Izzie's strange case of seeing (and doing a whole lot more with) dead people. But she was also being a little sneaky.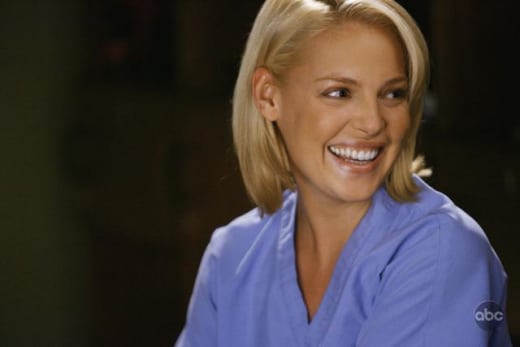 But what could it be? Moreover, how does ABC feel about the plot line, and where is it going from here? Find out what's going on with Izzie after the jump ...
Izzie's hallucinations are health-related - and brain-related
.
According to sources, although the specific name of the ailment is being kept in the safe underneath Rhimes' desk, it's reportedly similar to an aneurysm.
Every time it flares up, she sees Denny. When it really flares up, she shags him.
Interestingly, Izzie's aneurysm (or whatever the disorder is) was never intended to be fatal. Plans change, but, per an ABC insider, Shonda Rhimes didn't cook up this story in order to grant Katherine Heigl's alleged wish to be killed off the show.
Rather, the Grey's Anatomy boss wanted to give her actress the thing she allegedly wanted, and that eluded her last season: some great, Emmy-worthy material.
Say what you want about the story, Katherine Heigl has delivered.
For their part, ABC execs remain divided except for on one point: Everyone acknowledges that the plot is asking the audience to take a huge leap.
"It's definitely an unorthodox story, but I trust in Shonda," maintains one suit, who says the press will eviscerate the network no matter what they do.
"If we interfere, we get blamed for messing with someone's creative vision. If we don't do anything, we get blamed for the backlash. You really can't win."
Another insider says ABC execs are getting antsy waiting for the audience to find out about the underlying medical issue fueling Izzie's spectral romance.
So antsy, in fact, that they are applying some light pressure on Rhimes to speed up the reveal. Once you know the reason why Izzie and Denny are interacting, their logic assumes, you will be much more willing to go along for the ride.
What do you think about it, Grey's Anatomy fans? Comment below!
Steve Marsi is the Managing Editor of TV Fanatic. Follow him on Google+ or email him here.