Welcome to a new edition of the 90210 Round Table!

Following every episode of this show, writers from our site share thoughts and compare answers to various questions related to the most recent installment. What are we focusing on for "Between a Sign and a Hard Place?"

Topics for this edition include Adrianna/Navid, Harry/Debbie, Donna/David and more...
Which will end worse: Adrianna and Navid's engagement, or Annie and Naomi's friendship?
BrendaLova: Adrianna and Navid; only because Annie and Naomi don't have a real friendship. It's awkward, it's forced and each side knows it will end soon.

The Real McKay: Oh, totally Adrianna and Navid's engagement.  I'm sorry, as cute as that was, you guys are kids.  Now, Annie and Naomi?  I've never seen a better bonding over a game of foosball.  Or never will again.

Wild4Wilds: I don't know which will end worse. But I know which will end hottest: Annie and Naomi, after Liam asks for the former to join him and the latter for a threesome.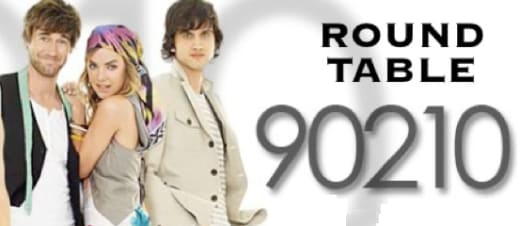 Harry and Debbie storylines (yard sales, nude male models, etc.):  Funny side plots, or major wastes of time?
The Real McKay: Are you kidding me?  Harry's attachment to the "Big Mouth Billy Bass?"  Amazing.

Wild4Wilds: Beautiful side plots! You have seen Lori Laughlin, right?!?

BrendaLova: I'm down with a focus on the parents, but can we get 90210 writers some tapes of The OC? We need Harry to be more like Sandy.
Will David eventually join Donna in Beverly Hills?
Wild4Wilds: He may try, but Donna will stand her ground. Japan over his one true love? No way sushi rolls taste that good!

BrendaLova: Not any time soon. Would you leave Megan Fox?!?

The Real McKay: Let me check those ratings on Terminator: The Sarah Conner Chronicles... Yes. David will return.
How hot was the kiss between Kelly and Ryan?!?
BrendaLova: Hotter than Ben Gordon during Game Two of the Bulls/Celtics NBA playoff series.

The Real McKay: In the words of Gossip Girl: OMFG.

Wild4Wilds: Hot. But likely not nearly as hot as whatever came after the kiss.
Matt Richenthal is the Editor in Chief of TV Fanatic. Follow him on Twitter and on Google+.