Welcome to the 90210 Round Table!

Each week, staff members from TV Fanatic get together to review various questions and exciting moments from the most recent episode. What stood out about "Okaeri, Donna!"

Our topics for this edition include Donna'a return, Diablo Cody, Dixon's birth mom and more...
Were you happy to see Donna return?
BrendaLova: Yes. If only because it reduced the amount of screen time for Shenae Grimes and her overacting.

The Real McKay: I don't know what it is, but every time we see an old member of the Beverly Hills, 90210 cast, I get chills. So, yes, in an understatement, you could say I was happy.  But, unfortunately, the old cast members are like a drug and I need MORE.

Wild4Wilds: Not without David. Those two gotta work out their differences! As he used to say, come on, can't we just "squash it?"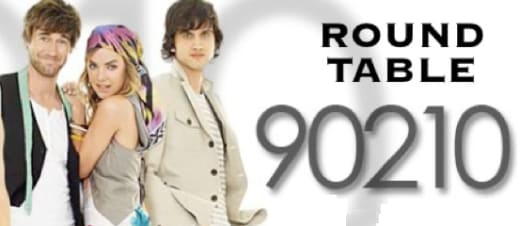 Does anyone love Diablo Cody THAT much?!?
The Real McKay: Obviously the man who asked that question never saw Teenage Mommy Girl.  Oh, sorry, Juno for you Americans.

Wild4Wilds: Look, I liked Juno. And I get a kick out of Cody's column in Entertainment Weekly. But Silver reacted as though she were meeting some combination of the Pope, Barack Obama and George Clooney.

BrendaLova: Maybe not. But Cody has said she loves 90210 that much, so the casting made sense.
More unexpected: Liam getting it on with Naomi in the woods? Or Liam befriending Ethan?
Wild4Wilds: The friendship with Ethan. Call me crazy, but former boyfriends don't typically mix well with the new guy boning their ex-lover.

BrendaLova: Was I surprised that Naomi was railed against a tree in the woods?!? No. I was just disappointed that Silver didn't tape this sexual encounter for us to view. It looked hot!

The Real McKay: Definitely Liam befriending Ethan and, honestly, his budding bromance scenes with Ethan were more entertaining that the actual romance scenes with Naomi.  Don't get me wrong, I love Naomi and think her courting of Liam has been great.  It's just those Ethan / Liam scenes were classic.
Will we see Dixon's birth mom again?
BrendaLova: I hope so. That was a well-written storyline in which I found myself emotionally invested.

The Real McKay: It depends on whether Dr. Pepper can afford to send Dixon on another road trip.

Wild4Wilds: Silver. Yes. Two words describe a likely, upcoming plot: Custody. Battle.
Matt Richenthal is the Editor in Chief of TV Fanatic. Follow him on Twitter and on Google+.