The relationship between Jackie Peyton and Fitch Cooper is rather strained and unusual.
She thinks he's an arrogant ass; and he grabs her breasts when nervous.
According to an interview Peter Facinelli gave to E! News this week, though, the interaction between these two Nurse Jackie characters turns an odd corner in episode 10, airing August 10. Here's what Facinelli had to say...
On a possible romance: In Coop's world, he starts to develop a little something for her. I don't want to say where it goes, but somewhere along the lines romantically in Coop's world, Jackie and he should be together.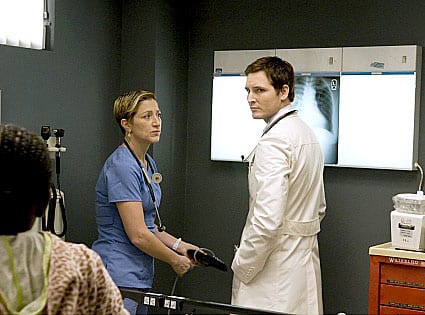 On Coop's upcoming girlfriend (played by Jill Flint): I do have a little girlfriend coming on soon very well, and it becomes very difficult emotionally after he decides that he and Jackie should be together. She's great. I like the stuff with me and the girlfriend. It's fun stuff because he's so socially inept with any kind of relationship and yet he doesn't know it. I feel sorry for him in a funny kind of way.
Matt Richenthal is the Editor in Chief of TV Fanatic. Follow him on Twitter and on Google+.