Even with Intersect 2.0, season three of Chuck has been sticking to the show's general formula up until Shaw decided to shake things up.  In this Chris Fedak penned script, Chuck went on his first solo mission.
While we loved the generic formula every episode prior stuck to, we've been waiting for the supposed "game changer" that Intersect 2.0 was meant to be.  For the first time, "Chuck Versus First Class" gaveus  a taste of what that's going to be like.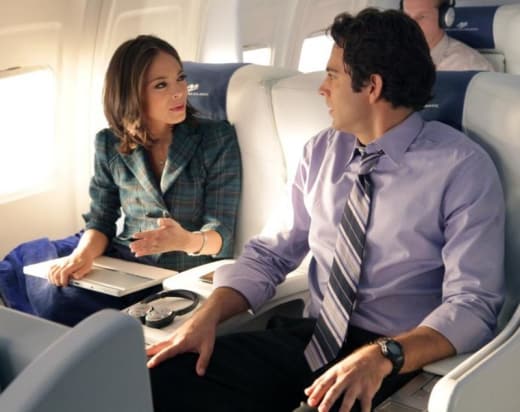 Sure, Casey, Sarah and Shaw were there by phone and some remote control plane to help, but Chuck had to carry the mission, and episode on his own.  The show continues to let Chuck slowly grow, and this time our Nerd Herder was able to properly use the Intersect both times required, even if he never got to take advantage of those nunchucks. 
We were getting sick of Chuck's Intersect impotence plotline and preferred other problems facing Chuck on his solo mission.  The girlish scream followed up by master sword fighting?  Perfectly Chuck.
Now on to our four amazing guest stars.  Brandon Routh seemed irritating to us as Shaw at first, but now the character is quickly growing on us, especially since he's pushing Chuck to be the spy in ways that Casey and Sarah were never willing to do.
While we've never seen enough Smallville to hate Kristin Kreuk like some of the Clois fans do, we thought she was ridiculously cute and charming in this role.  We kept expecting Chuck to flash on Hannah and her to be a part of the ring.  We hope she doesn't go the way of Lou (Rachel Bilson) or Jill (Jordana Brewster) and that our main man is finally able to maintain some sort of normal relationship.  Those Chuck spoilers from next week's preview sure do look promising at least.
Stone Cold Steve Austin was a perfect casting as a gorilla of a ring operative, and we loved the wrestling reference they made.  It was also fun to see Josie Davis (the nerdy sister from Charles in Charge) as Serena, the evil flight attendant.  We just have to ask one question, why didn't Chuck flash on her?  Oh who are we kidding.  There's never a point to analyizing plot holes in Chuck.
Meanwhile, without Chuck to protect, we finally got to see what a Casey-Morgan storyline could be like at the Buy More, and it was surprisingly amazing.  We're actually shocked they never explored how funny it is to have a bad ass like Casey working at the Buy More.  The last bit we can remember related to this was Casey tackling a shoplifter at the first couple episodes of season one.
Overall we thought this episode was perfection as far as anything Intersect 2.0 and season three can offer.  Heck, we're gonna say this episode could even stand up to most of season one and two.  Plus, it had none of that annoying Chuck-Sarah sexual tension!
Our favorite Chuck quotes and our rating after the jump.
Morgan: How do you do that? You command respect.
Casey: No, I take it. | permalink
Shaw: Is Chuck Bartwoski a real spy?
Sarah: Yes, of coruse he is. I mean his training has been irregular and he was a civilian only two years ago.
Shaw: These mission reports tell another story. Sometimes he sounds like Bond, other times it's like a Jerry Lewis movie. | permalink
Jeff: Your coffee sir.
Morgan: Jeffery, thank you so much. [takes a niff] Mmm hmm. You know, call me old fashioned, but I prefer cream over laxative. | permalink
Chuck: Let me be a spy. Let me out of the car. I'm ready. | permalink
Eric Hochberger is the programmer of TV Fanatic, so please forgive his mediocre writing. His programming is far better. Follow him on Twitter and/or email him. Just don't request threaded comments. They're coming.