Life Unexpected Review: "Pilot"
at .
Last night was the first installment of The CW's great new show, Life Unexpected.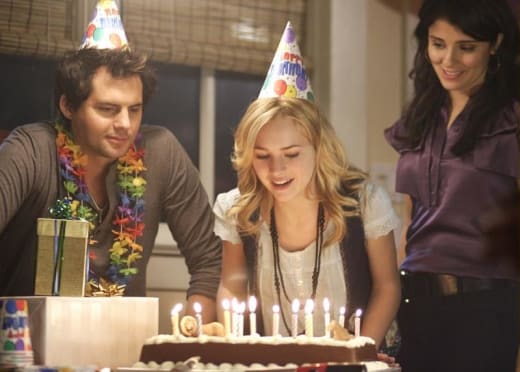 In the pilot episode, our heroine Lux somehow finds her way back to her natural birth parents - just like the lion cub remembers the humans in that classic, Whitney Houston-inspired video.
Kerr Smith is naturally one of our favorite characters, and it is nice to see him play a straight man...not to say, we didn't drool over him as Jack. We wonder if things will work out with Ryan and Cate? We hope so!
The steamy sex scene between Nate and Cate was definitely something we were not expecting to see and it was most definitely hot! And to have the Spin Doctors playing throughout it? Awesome! We love that song!
We are starting to feel old these days, especially because we relate more to the parental figures then the teenager in this show, but Nate knows how to make us feel young again. We think Lux is more mature than him.
There were plenty of tear jerker moments throughout this episode and I, for one, think that is a big feat for The CW. Most shows these days don't put that much of an emotional investment into their characters. It's so nice to watch something on television that isn't a crime scene show or a reality TV show. We have high hopes for Life Unexpected!
Until next Monday, we leave you with a few of our favorite Life Unexpected quotes:
Lux: You both can't be parents, you both need parents! | permalink
Baze: My dad said to do what I love and I love to drink for free. | permalink
Lux: You'd think with your last name being Foster, you'd actually be equipped to be a foster parent. | permalink