Welcome to the second edition of The Deep End Round Table!
On this week's episode, Cliff admitted to his affair, while Beth tackled her daddy issues. We reviewed "Where There's Smoke" in depth and cited our main problems so far with the series, but there's always more to say.
As always, reader feedback on the following topics is encouraged...
Liam's first kiss: Romantic or lame?
M.L. House: It's hard to say because we don't know Liam very well. Did he wait so long for the kiss because he was a geek in high school? Because he was waiting for a certain, special pair of lips? We need more insight into his character.
Dr. Shepherd: It was romantic... until he started tagging every piece of ass that walked by him after that. You wanna top your first kiss, Liam? That's cool. But that doesn't explain why you go from first base to home plate so quickly.
The Barnacle: It depends on who that kiss was from. A friend that pitied him? Lame. A college professor? Hot!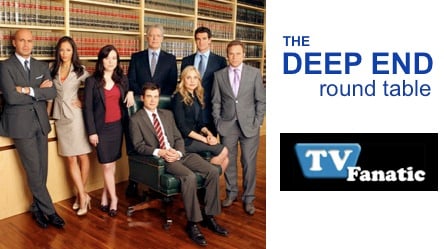 Which legal case was more interesting this week?
M.L. House: The whole marijuana thing really seemed like a stretch. Do first-year associated even sign clients on their own for firms? Can anyone clue me in about that? The court proceedings also took place awfully quickly, and the entire thing seemed like a set up to show how nice and cool Hart is.
Dr. Shepherd: I'm not really sure I followed the marijuana one. Isn't that legal in California? What was the big deal? I'll go with Beth versus her father because it revealed something about her character.
The Barnacle: The malpractice suit. It involved Beth and she's gorgeous. What else do I have to say?
Should Susan take Cliff back?
M.L. House: No way. As she said herself, he didn't merely cheat on her. He dipped his pen in the company ink, pretty much the worse thing a husband can do to his wife.
Dr. Shepherd: Maybe, but not yet certainly. She seems to understand who she married and maybe never expected him to remain loyal. But with the firm's secretary? That's a major no-no, dude.
The Barnacle: Only after she gets him back. Paging Liam, someone needs to do a lot more than just kiss you!
Is it too soon for a Liam/Beth relationship?
M.L. House: Heavens, yes. We need to learn a lot more about each character and we need to see some actual tension there. There's no suspense or longing for these two to date when they were already having sex on the pilot episode.
Dr. Shepherd: Yes, but only because I need more time to come up with a nickname for them. Leth? Biam? Those both suck.
The Barnacle: Yes. But it's not too soon for a Beth topless scene.
Matt Richenthal is the Editor in Chief of TV Fanatic. Follow him on Twitter and on Google+.