Life Unexpected Review: "Turtle Undefeated"
at .
There has been enough episodes of Life Unexpected for us to know we are HOOKED!
Seriously. If you haven't tuned in yet to this remarkably funny, warm, and touching show - do so now!
The CW plays reruns almost everyday and if you are technologically advanced (like I hope to be shortly) - set your DVRs to record!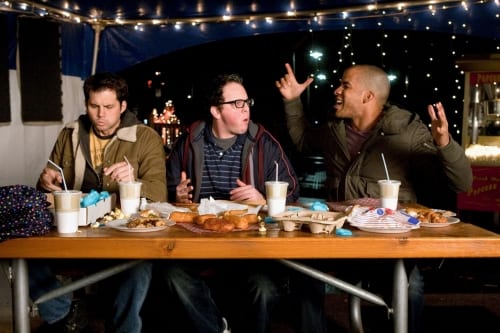 Back to the review, "Turtle Undefeated" had some moments that had us holding our breaths - big time.
For one, did you guys feel the spark between Baze and Cate when she touched his hand? The way their eyes connected for a brief moment, only to be interrupted by Ryan?! There definitely is something there that is still brewing...
If you have been reading the spoilers, you would know that there is a new romantic interest for Lux - Jones. We must say, he is pretty cute and seems like the nice boy next-door type of guy.
But, we kinda feel bad for Bug. He brought her soup and a movie because she wasn't feeling well - and any guy that would do that is a keeper in our books!
If things do start to get hot and steamy with Jones, what will happen with the girls at Lux's school? Isn't one of them dating him?
Off topic, anyone realize they brought up the bong lamp again? Hope ya'll took a shot for that one!
How cute was it when Baze's dad came back for that beer? We know we should have expected that, but we didn't and it really had us smiling. Since it looks like they are on the road to mending their relationship, we hope we see more interaction between these two.
The more that we get to know Math and Jamie, the more we are falling in love with these guys. Their one liners are great! We got to give it up to them with the best Life Unexpected quotes for this week after the jump:
Jamie: Stick that in your looser pipes and smoke it. | permalink
Math: No more eating competitions - I feel like I have a food baby. | permalink
Baze's father: I'll take this three legged one - and route for the underdog for a change. | permalink