The Big Bang Theory Review: "The Einstein Approximation"

Eric Hochberger at .
In what felt like a shortened episode of The Big Bang Theory, there was really only one main story line in this week's episode: Sheldon snapping when he can't solve a physics problem.  So if "The Einstein Approximation" was a half hour of pure Sheldon antics, how could we complain?
Well, we're critics, that's how!  Although we love Sheldon and he is 100% why we watch this show, it's not the Sheldon show for a reason.  In order to keep the show somewhat believable so that we buy into the fact Leonard and crew put up with Sheldon, you can't possibly give him the entire thirty minutes.  Even Penny was ready to break up with Leonard over it!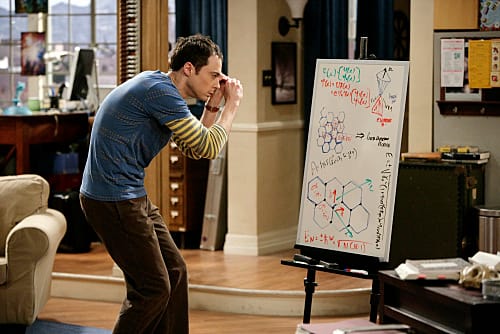 Don't get us wrong, Sheldon was unbelievably hilarious.  The swimming around the ball pit escaping from Leonard screaming "bazinga" was amazing both during the episode and after the credit roll.  Possibly one of the funniest Big Bang moments even.
However, we can't help but complain that some of this episode was out of even Sheldon's character, sleep deprived or not.  While the idea of him emulating Einstein's mundane job was believable, would a man as nutty as him not be able to touch other peoples' coins, but have no problem busing their food?  And really, we're expected to beleive a genius like Sheldon never thought particles could move in a wave?  Pretty sure that was high school physics.  Okay, we'll admit that last one was a bit of a silly complaint for a sitcom. 
Our final rant from this week's episode is the same one we've had since they paired up Wolowitz and Leonard into relationships: it's leaving Raj in the cold.  He simply set up the double date at the start and then disappeared until he could complain about it at the ned.  Nobody can deliver the sarcasm like Raj and we're missing the guy.  Maybe we need Raj to get together with Winnie and have some triple dating action!
So we don't sound so bitter, we'll just go over some quick notes of our favorite jokes that worked this episode: Bernadette calming down Sheldon, Wolowitz and Raj awkwardly roller disco dancing, the aforementioned ball pit adventure and the security guard considering Sheldon a special child, Leonard Sheldoning Sheldon when he ordered at the cheesecake, and Sheldon just leaving the mess at the end saying he doesn't work there.
So in conclusion?  More Raj, slightly less Sheldon, and we would have had an amazing episode.  Now for The Big Bang Theory quotes from the episode.
Wolowitz [about Sheldon]: How long's he been stuck?
Leonard: Intellectually about 30 hours, emotionally about 29 years.
Wolowitz: Have you tried rebooting him?
Leonard: No, I think it's a firmware problem. | permalink
Leonard: I haven't seen him this stuck since he tried to figure out the third Matrix movie. | permalink
Sheldon: I asked myself what is the most mind-numbing, pedestrian job conceivable and three answers came to mind: a toll booth employees, an Apple store genius, and what penny does. Because I don't like touch other peoples' coins and I refuse to contribute to the devaluation of the word genius, here I am. | permalink
Sheldon: Your cell phone was off.
Leonard: Because we didn't want to be disturbed!
Sheldon: Well that didn't work out, now did it? | permalink
Eric Hochberger is the programmer of TV Fanatic, so please forgive his mediocre writing. His programming is far better. Follow him on Twitter and/or email him. Just don't request threaded comments. They're coming.