Grey's Anatomy Round Table: "Perfect Little Accident"
Steve Marsi at .
Welcome to TV Fanatic's Grey's Anatomy Round Table! Below, our panelists break down some of the hot topics and burning questions from Thursday evening's show.
Topics for our "Perfect Little Accident" Round Table include memorable quotes, Lexie and her feelings, Derek as the Chief, and the Seattle Grace BFFs we wish we had ...
1. What was your favorite Grey's Anatomy quote from the episode?

M.L. House: Alex telling Lexie: "I got a free 20 minutes. Wanna go not have feelings somewhere?" Deep inside, you know Alex is actually bothered about being used for sex, but he can't admit that. He's my favorite character on the show.
Mrs. Northman: Meredith: "Right, because you are a no feelings type of girl. Your heart lives in your vagina." Lexie: "My heart... does not live in my vagina!"
That's a great line that I will now use on my girlfriends.
L.J. Gibbs: "I'm in love with Teddy. I love her." Not for the quote itself, but for the fact that it came from Cristina Yang, and she means it in a way only Cristina Yang could. The dynamic between Cristina and Teddy, Teddy and Owen and Cristina and Owen is unlike any on TV.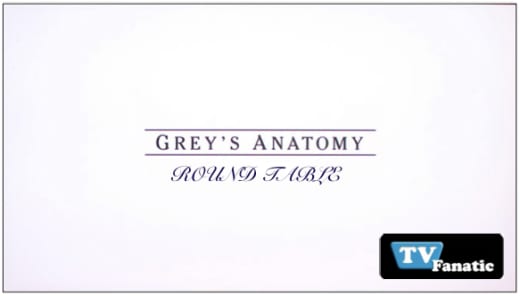 2. After his performance last night, should Derek remain Chief indefinitely?
L.J. Gibbs: Whether he will is up in the air, but he definitely earned his stripes last night. Derek wasn't out to pick fights, but he was tough when he needed to be. He understood the many nuances of the position perfectly ... something even Richard struggles with.
Mrs. Northman: I do think Derek makes a great Chief, but I miss Richard being Chief! He has to be Chief again sometime - it's just weird seeing him work for Derek.
M.L. House: Absolutely. It's not like he has a career in the NBA ahead of him, clearly.
3. Can Lexie really be a no-feelings girl?
Mrs. Northman: No way! She can try, but I think she will eventually have feelings for Alex.
M.L. House: No. I don't even understand what made Meredith comment that her half-sister's heart is in her vagina. Didn't Lexie just spend a long time in a loving, committed relationship?
L.J. Gibbs: Yes. No. Either way it's fun to watch her try. As much as she's annoyed me at times, watching Lexie come out of her shell like this keeps things interesting.
4. What's next for the Owen-Cristina-Teddy relationship(s)?
M.L. House: Remember the scene with Mark, Callie and Arizona in bed together? Something like that, but with fewer clothes on.
Mrs. Northman: Good question - I think something is bound to happen romantically between Teddy and Owen. Maybe Christina will catch them in the boiler room?
L.J. Gibbs: They're walking the tightrope successfully now, but you have to figure at some point, Teddy will have a hard time with Cristina and Owen being together romantically. The question is, what event will trigger those feelings? Anyone have a theory?
5. Which Seattle Grace doctor would make the most awesome friend?
L.J. Gibbs: Arizona. She talks the talk but the peds cutie sure does back it up.
M.L. House: Mark. I could be his wing man and pick up the tail he discards!
Mrs. Northman: Alex Karev - kidding! I think Callie is the best one to be friends with because she always seems level headed and will tell you what you need to hear (like in Sloan's situation).
Steve Marsi is the Managing Editor of TV Fanatic. Follow him on Google+ or email him here.