Welcome to TV Fanatic's Grey's Anatomy Round Table, in which our esteemed panelists discuss the hot topics and burning questions from Thursday's episode.
Topics for our "Push" Round Table include memorable quotes, Lexie and her feelings, Derek as the Chief, and the Seattle Grace BFFs we wish we had ...
1. What was your favorite Grey's Anatomy quote from the episode?

M.L. House: Mark to Teddy: "Your breasts are fantastic. I wouldn't change a thing." Mark always cracks me up.
Mrs. Northman: Callie: "Third sex is the sex date. And he's cooking for you, at his home. Where he keeps his bed." Too funny and true! When a man invites you over for dinner, that he prepared, you know it's on like Donkey Kong!
L.J. Gibbs: When Owen lectured Mark about Teddy, and he responded "This might come as a shock, but looks like I'm the respectable adult in this situation." He wanted to get mad about the accusation, but knew he really couldn't. He's awesome.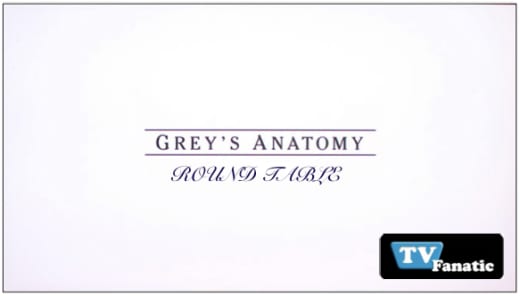 2. Is Mark Sloan really ready to settle down, and is Teddy the right woman for him?
L.J. Gibbs: I do think that against all odds, a combination of dating Little Grey and Sloane Sloan's pregnancy flipped a switch with the infamous playboy. Although I think he and Addison would be a great fit still. More Private Practice crossovers please!
Mrs. Northman: Yes, I do think Sloan is ready to settle down, but not with Teddy! He belongs with Lexie.
M.L. House: Yes and... who knows. Mark and Lexie broke up specifically because he wants to be a family man. There probably isn't any room left on his bed post for any notches. As for Teddy: Too early to tell. What do we really know about her?
3. Bailey and Ben: Will it last?
Mrs. Northman: I hope so! They are so cute! Especially Bailey when she is all nervous about him.
M.L. House: I hope so! I loved how Ben called Bailey out on her penchant for lecturing. He can also cook, take things slow and we could nickname them The Killer Bs. What's not to like?
L.J. Gibbs: Please God yes. Ben is clearly so compatible with our favorite Nazi for many reasons, and to finally see one of our favorite character's personal life get some love? Amazing.
4. Team Richard or Team Derek?
M.L. House: Team The Show Ruined Anything Interesting About the Chief Storyline After It Based Half a Season On It Back in the Day, Only for Derek to Give It Back to Richard for No Reason.
Mrs. Northman: Team Richard. Something about Derek being the Chief irks me.
L.J. Gibbs: Team Derek. Sure, Richard is bitter about being usurped and perhaps he is more experienced in certain situations, but let's not forget WHY he was usurped. He has no one to blame but himself for bungling the merger and relapsing.
5. Who would you seek out for dating advice at Seattle Grace?
L.J. Gibbs: Gotta go with Arizona. She was right when she said that Calzona has totally become the model couple. Well, MerDer is too, obviously, but I couldn't ask Derek for advice. That hair ... McDreamy just intimidates me. How can I ever measure up?!
M.L. House: Izzie. Just let me go visit her at her house, since the immature actress who plays her won't even show up on set.
Mrs. Northman: That's a tough one - especially since everyone is all sorts of messed up when it comes to relationships. I guess I would talk with Arizona? She seems like the only one that didn't really come with any baggage - that we know of.
Steve Marsi is the Managing Editor of TV Fanatic. Follow him on Google+ or email him here.