Life Unexpected Review: "Family Therapized"
at .
Tonight we had to break out the box of tissues!
We know that this will not be the last time Cate and Lux have a emotional breakthrough, but it was really great to see some headway between these two.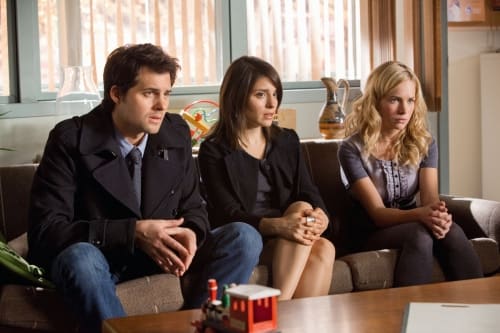 "Family Therapized" really nailed it on the head with the reason why Lux is so angry with Cate.
We know Lux gets a lot of slack for being so hard on Cate, but if you really put yourself in her (sixteen year old) shoes, how can you really blame her? Her whole life she has had to deal with being rejected by her mother and father. Only until she tries to get emancipated do they (because the court ordered it) step in.
On the other hand, Cate really hasn't had the easiest life and personal choices to deal with either.
Coming from a broken family herself and getting pregnant at sixteen, wasn't the most envious life - and really in the end, she probably did one of the hardest things any mother would have to do - have the child and then give it up. It all made sense that she couldn't hold Lux after she was born.
Ryan is becoming our favorite character on the show. After all that Cate has put him through, he is willing to be there for her and Lux - and even put himself in her shoes (which is extremely tough, given his own point of view in this circumstance).  We love the ending with Ryan telling Lux that he is home too. Way too cute!
Baze used to be our favorite character - with his good looks and witty antics. But, after he has slept with Cate's sister we no longer love him as much. Really, there are no other girls around for him? He has to sleep with his babies mama's sister? Way too Jerry Springer for us, thank you very much.
We thought last night's episode did a great job in letting us really get a look into where Lux is coming from with all her anger towards Cate. The only aspect that was missing was the whole Lux - Bug - Jones love triangle. And, from the looks of how cute Bug really is trying, we kind of are swinging towards team Bug.
What did you guys make out of the episode?
Until next week, we leave you with a few Life Unexpected quotes after the jump!
Ryan: I'm home too. | permalink
Cate: I can't believe it - I've never been so happy to see a bong lamp. | permalink
Lux: I know it seems like I am okay, but I am more messed up inside that it seems. | permalink
Alice: I hate being called a Ma'am. | permalink
Cate: Ahhahah - Kinda a catch 22 right there. | permalink