This week's episode of The Big Bang Theory started off strong with the notion of Sheldon fearing his award acceptance speech due to his stage freight.
The first fifteen minutes or so of "The Pants Alternative" were loaded with some great jokes including poking fun of Avatar's ponytail "junk," Penny's hillbilly heritage and, of course, jokes from Sheldon's entire C-Men team.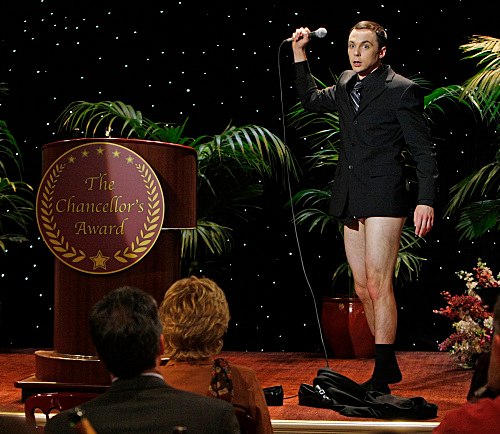 However, after a strong intro and a debonair looking Sheldon, the episode became a silly mess as Penny convinced Sheldon to get drunk for his speech.  Sure the interaction between Penny and Sheldon as he actually drank was priceless: "This alcohol is defective," but the drunken speech felt like a cop-out.
We always say it, but we hold Big Bang to a higher standard than other sitcoms, and shamelessly relying on Sheldon drinking while Leonard whined about his mother in the background seemed cheesy, and ultimately not that funny.  At least we got a few good physics jokes out of the ending.
Overall, the ending wasn't enough to take down what was still an entertaining episode.  Our favorite of The Big Bang Theory quotes after after the jump.
Raj: In Avatar, when they have sex on pandora they hook up their ponytails, so we know that their ponytails are like their junk.
Wolowitz: Yeah, so?
Raj: So when they ride horses and fly on the birds, they also use their ponytails...
Wolowitz: What's your point?
Raj: My point is if I were a horse or a bird, I'd be very nervous around James Cameron. | permalink
Penny: So what do you say, Sheldon, are we your X-Men?
Sheldon: No, the X-Men were named for the "X" in "Charles Xavier." Since I am Sheldon Cooper, you will be my "C-Men." | permalink
Raj: These methods come from the ancient gurus of India, and have helped me conquer my own fears.
Sheldon: And yet you can't speak to women.
Raj: True, but thanks to meditation, I am able to stay in the same room with them without urinating. | permalink
Leonard: We think we can help you with your stage fright.
Sheldon: Oh, I doubt that. I haven't figured out a way, and I'm much smarter than all of you.
Penny: Yes, buy you're not smaller than all of us put together.
Sheldon: I'm sorry, that is what I meant. | permalink
Eric Hochberger is the programmer of TV Fanatic, so please forgive his mediocre writing. His programming is far better. Follow him on Twitter and/or email him. Just don't request threaded comments. They're coming.