Ugly Betty Sneak Peak: "Fire and Nice"
at .
We've waited a month to see what happens next on Ugly Betty.
Since the fire, Betty has had her entire family living with her in her apartment.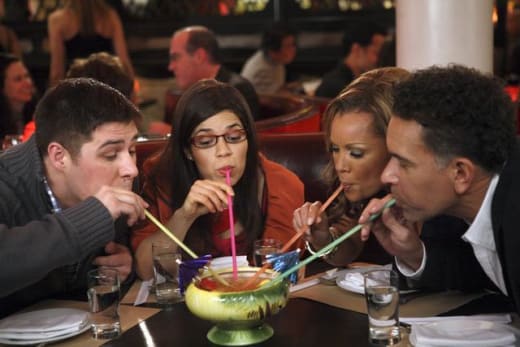 Betty goes to the fire house to see if she could speed things up with their report - by agreeing to go on a date with a rather annoying fireman, Jimmy.

Meanwhile, Wilhelmina tries to prove to an old flame, Don, an old flame that she is"Wanda from the block" and not a super bitch.

Amanda convinces Claire to hire Tyler as an in-house model at Mode. While Justin admits to Marc that he was the one who started the fire.

Hilda is super nervous meeting Bobby's parents for the first time - Lainie Kazan and Nestor Serrano guest star as Bobby's parents.

Tune in tomorrow night at 10pm on ABC to catch this long awaited new episode! Also, don't forget to follow the jump to check out more pictures from "Fire and Nice."