United States of Tara Review: "Trouble Junction"
at .
Last night on United States of Tara, we thought things got a wee bit too graphic for us. We really don't understand the need to show Buck getting it on with Pammy - yuck!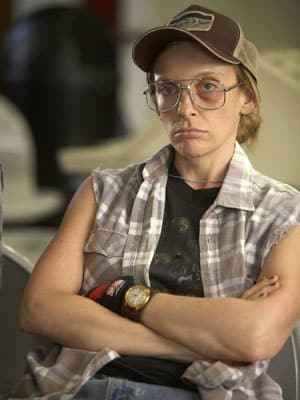 "Trouble Junction" did make it clear the anguish that Tara must have to deal with. Not only does Tara forget huge time sequences, but having her body actually be used - without permission - is just terrible! It's almost like she is getting raped on roofies or something.
On a much lighter and brighter note, how cute was it when Max broke out Air Supply and Tara joined in?!
Who knew Tara has such a great voice? Too bad one of her alters couldn't be a singer in a lounge...that would be so fun and much less depressing to watch...just saying.
We love that Kate is excelling in her new career! We have a feeling that this new lady will play a pivotal role in her life - and perhaps even Tara's? 
Marshall is that young guy we all knew was gay in high school before he himself did. Sometimes, it just takes a bit of self discovery to really come to grips with who you are.
That is our explanation for why he decided to make-out with his girl friend. We think he is just trying to figure things out. Our only hope is that things don't go overboard with his lady friend. We don't need to see another heart break.
How did you guys feel about Max not acknowledging Tara's apparent dismay of buying the Hubbard home? We thought it was very rude! His wife has a mental disorder and obviously was hesitant about purchasing the house, why would you just clear as day overlook something like that?
All in all we still love the originality of this show and can't wait until next week when Buck's new girlfriend confesses her love for him - in front of Tara's family!
What did you guys think? Until next week, we leave you with a few of our favorite United States of Tara quotes after the jump!
Tara: Nothing else is going to happen between us because I am trouble, okay? I am trouble. | permalink
Marshall: You're f***ing face is the f***ing gay size. | permalink
Tara: Honey has it occurred to you that now that I am better you are just looking for another project. | permalink
Kate: Yeah that's me, I am a working girl now. | permalink