On probably any other show, last night's episode would have felt like a 30 minute cheesy product placement for the Apple iPad, yet somehow, Modern Family manages to write an entire episode around the device that didn't feel like advertising.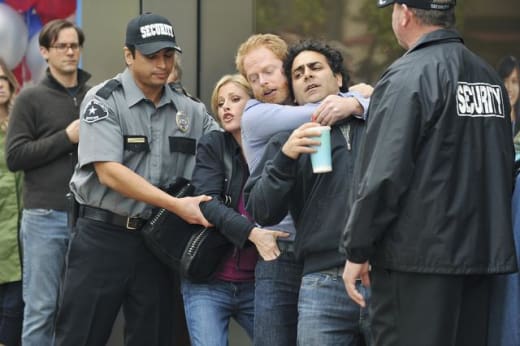 The writing of this show is just so good that they can literally write an entire episode about waiting on line for a product and make it work.  We're going to assume the show got paid for it, but our question is who pitched the idea, Apple or the writers?
Either way, the primary story line of "Game Changer," was fantastic thanks to some of the amazing reactions delivered by Phil.  "Who's ready for the first day of the rest of their lives?"
While we thought the Luke saving the day was cheesily predictable with how much this show seems to have its underachiever deliver, it didn't matter in the end.  The poor guy had to get his iPad and we didn't care how it happened.
Mitchell and Cameron's story line started with them thinking there was a break in when they overheard a man on the baby monitor.  Of course, the flamboyant Cameron sprung into action with a baseball bat ("It's go time!"),  while, Mitchell hesitated and grabbed a newspaper.
From there, their stories split as Mitchell went to learn how to fight from Jay, while Cameron tried to save the marriage of the people they heard on the baby monitor. Mitchell's story fit very nice into the main plot, while Cameron's provided some good laugh at our good-natured stalker's expense.
We felt the weakest of the plots was definitely Jay's family playing chess.  It had a few good jokes, and definitely helped make Gloria and Manny stronger characters, but overall, nothing special.
So for a 30 minute product placement of the iPad, it was a pretty impressive episode.  Our favorite Modern Family quotes from the episode are after jump.
Phil: The iPad comes out on my actual birthday. It's like Steve Jobs and God got together to say, "we love you, Phil." | permalink
Phil: It's like a movie theater, library and a music store all rolled in to one... awesome pad.
Alex [to Haley]: A library is a place where people get books
Haley [to Alex]: A movie theater is a place where people go on dates. | permalink
Cameron: You're so cute when you're angry with you're little fists. I just want to put you in my pocket. | permalink
Claire: They're getting more in next week.
Phil: Next week? That's like the worst thing you can say to an early adopter. | permalink
Eric Hochberger is the programmer of TV Fanatic, so please forgive his mediocre writing. His programming is far better. Follow him on Twitter and/or email him. Just don't request threaded comments. They're coming.