After setting up multiple epic story lines with last week's "200" episode, why open part two with a ridiculous Vietnam war sequence featuring Mitch Conner (Cartman's hand puppet).  We were just relived to see the guys were going to give us part two and not a Terrance and Phillip special.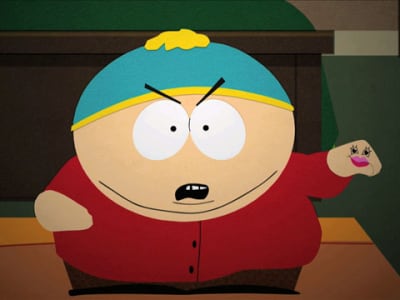 From there, the episode quickly joined up with its story lines, merged them together, and pushed the over-censored, ridiculousness that is the Muhammad issue to the max.  For part two?  Even the prophet's name was bleeped, while Jesus was addicted to Internet porn and Buddha just couldn't get enough of his blow.
So what did we think of "201?"  Well, first off, as an editor's note, we are extremely biased this week.  Our favorite episode of all time, "Scott Tenorman Must Die" was not only referenced, but Tenorman became central to the plot line.  For any South Park fan,this plot and Cartman's big father reveal was perfection.
The rest of the episode contained plenty of throwbacks much like "200," giving almost everyone and everything from the past some nice cameos including Pip, Mr. Hankey, Mickey Mouse, Raisins, and even the whale.  We wouldn't have been shocked if Hussein and Satan made an appearance.
Of course, any review will have to at least mention the massive censorship of the message of the episode.  While some of the people we watched the episode with found it irritating, it has us laughing and only further proved Parker and Stone's point.  Ironic.
Our favorite joke from the episode?  It's a three-way tie for:
The Superfriends on their power cycles: aka Segways.
Mecha-Streisand's incredible duet with Neil Diamond.
Cartman's being distraught over carrying the ginger gene.
Maybe having a two-parter of a glorified clips show was a bit too much, but we can't remember laughing as hard as we did and smiling from all the references from the past 14 years of our television life.  It was a great nod to the fans of the show that remember when this was just a show about four boys from a small town in Colorado. 
Now we give permission to Matt Stone and Trey Parker to return to the amazing, ridiculous political satire this show has become.  You've given us all we could ask with a Tenorman follow up.  Now for our favorite South Park quotes from part two:
Mr. Garrison: I'm sorry, Eric.
Cartman (as Mitch Connor): Sorry is a four letter word with a y on the end that doesn't mean anything to this kid. | permalink
Jesus (to Buddha): Watching porn isn't like doing coke you fag. | permalink
Cartman [as Mitch Connor]: We got a black president but whitey still doesn't trust me to use his phone.
Dr. Mephisto: Oh, I'm sorry you're right, we do have a black President. Come in. | permalink
Scott Tenorman: Revenge is a dish best served chili. | permalink
Eric Hochberger is the programmer of TV Fanatic, so please forgive his mediocre writing. His programming is far better. Follow him on Twitter and/or email him. Just don't request threaded comments. They're coming.