A tornado touched down in Kansas this week on United States of Tara.
Or a "torando," for those tuned to the local news on the show.
While very littie action took place on the episode, a whole lot was almost revealed. Specifically, a "pact" that Tara and Charmaine apparently agreed to as children. Shoshannah hinted at this near the end of the half hour, immediately before the show cut to a confusing scene where she and Tara actually sat across from one another.
This mental interaction, along with Charmaine's reaction to Shoshannah's quick analysis, laid the groundwork for the rest of the season. A secret from Tara's past will eventually get exposed, and we'd imagine it has something to do with Mimi, who Tara first mentioned to her sister last week.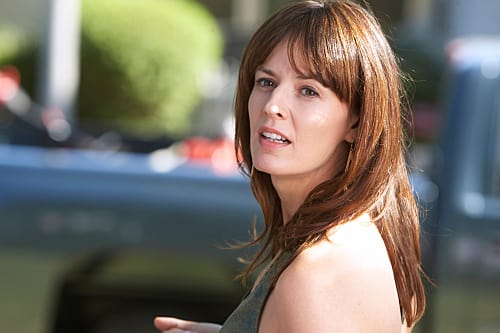 Charmaine, meanwhile, doesn't need to wrestle with any multiple personalities in order to get to the heart of her problems. She's a liar, a manipulator, someone with low self-esteem that sort of sleeps around and just wants to be loved...
But we love her as a character, which has a lot to do with Rosemarie DeWitt's portrayal.
We also adore Marshall, more so than ever after this week's episode.
The teenager is more advanced than either of his parents, or most adults his age... even if he's still stuck for the moment as one half of a "celibate power couple."
He'll likely ditch Courtney soon enough, but will he actually end up in the arms of Hany? The episode teased a bond between the pair, despite the fact that the latter's boyfriend was just a few feet away. It's hard to imagine Marshall actually hooking up with Hany, but it can only help his evolution to have a close relationship with an older, experienced gay man.
The only downside of the episode and the season to date? Kate's Princess Valhalla Hawkwind is a bit forced and a bit out there, even for this unusual show.
We've listed a few of our favorite United States of Tara quotes from "Torando" below:
Tara: There is a light at the end of the tunnel, Max. There is. | permalink
Shoshannah: After all these years, Tara, it's time to get out of the basement. | permalink
Marshall: We are like the dumbest nation on the whole planet. I think it has something to do with freedom. We're very free, so we're very free to be stupid. | permalink
Kate: Break up with Crazy Pants!
Marshall: I'm trying. | permalink
Marshall : She says she wants to be a celibate power couple.
Kate: Celibate power couple? That is the stupidest thing I've ever heard. | permalink
Charmaine: Hey, is that 10 gallons of water or are you just happy to see me? | permalink
Matt Richenthal is the Editor in Chief of TV Fanatic. Follow him on Twitter and on Google+.