Best of Grey's Anatomy Quotes: Season Six Finale
Steve Marsi at .
Last night's two-part Grey's Anatomy was one of the most memorable, intense and emotional in the medical drama's history (see our official review). We're still not quite over it.
Below are just some of the best Grey's Anatomy quotes from the gripping Season Six finale. Which were your favorite? Tell us - and follow the previous link for the full list!
Callie: I don't wanna have kids if it means I can't be with you.
Arizona: We'll have kids. We'll have all kinds of kids... I can't live without you and our 10 kids. | permalink
Derek: I'm not gonna die.
Meredith: Good. Because that would be the worst break-up ever. | permalink
Teddy: Owen, for my sake and for Cristina's sake, you have to choose: her or me. | permalink
Meredith: I pick you, I chose you. You don't get to die on me! | permalink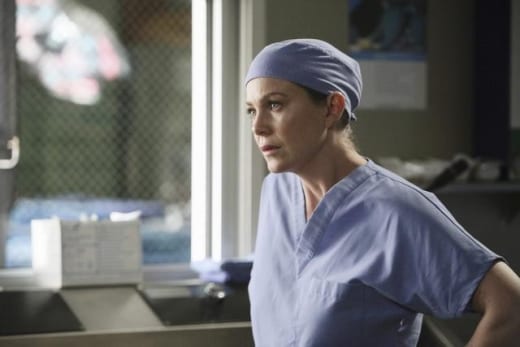 Derek: [narrating] Yes or no. In or out. Up or down. Live or die. Hero or coward. Fight or give in. I'll say it again to make sure you hear me. The human life is made up of choices. Live or die. That's the important choice. And it's not always in our hands. | permalink
Richard: I've lived. I've really really lived. I've failed. I've been devastated. I've been broken. I've gone to hell and back. And I've also known joy. And passion. And I've had a great love. See death for me is not justice. It's a ... end of a beautiful journey. And I'm not afraid to die. The question is, are you? A life in prison or an afterlife ... with your wife. Me or you? Your choice. | permalink
Cristina: Was his world made whole because your womb is not empty and dry? Did he cry like a bitch baby? | permalink
Percy: Can you tell her I was brave even if turn coward and start crying and asking for my mum in a minute. You lie to her and tell her I was brave. Ok?
Bailey: You are very brave, Charles. Ok, I'm the coward. I'm the one that told that man I was a nurse.
Percy: You're so smart. You were smart, I wish I was that smart. Tell her I loved her, you won't forget?
Bailey: I won't forget.
Percy: I know you don't like me.
Bailey: I like you.
Percy: No you don't. You were always my favorite doctor. I thought you should know. | permalink
Cristina: Mer, is Owen dead? Dr. Grey is Owen dead?
Meredith: He's, he's alive, he's unconscious but he's alive.
Cristina: Take Owen to the OR across the way and take that bullet out. And Get April to help you.
Meredith: Cristina!
Cristina: I can't talk right now I'm trying to save your guy. Now please go try save mine. [Mer leaves] Remind me to thank you later.
Jackson: I will. | permalink
Meredith: Shoot me.
Cristina: Meredith.
Meredith: You want justice right? Your wife died, I know what happened. Derek told me the story. Lexie Grey is the one that pulled the plug on your wife, she's my sister. Dr. Webber, he was your wife's doctor. I'm the closest thing he has to a daughter. And the man on the table, I'm his wife. If you wanna hurt them, the way that you hurt, shoot me. I'm your eye for an eye.
Cristina: Meredith...
Meredith: Tell Derek that I love him and that I'm sorry.
Cristina: Wait wait wait wait wait. She's pregnant. You wouldn't shoot a woman who's pregnant. | permalink
Jackson: April, in the OR behind there are two OR nurses and an anesthesiologist. Get them. Tell them to set up for a cardiac procedure
April: What, what why? If we don't have a surgeon what are we going to do?
Jackson: We have a surgeon.
April: Who's going to operate on Dr. Shepherd?
Cristina: I am. | permalink
Meredith: [narrating] For most people, the hospital is a scary place. A hostile place. A place where bad things happen. Most people would prefer church, or school, or home, but I grew up here. While my mom was on rounds, I learned to read in the OR gallery, I played in the morgue, I coloured with crayons on old ER charts. Hospital was my church, my school, my home; hospital was my safe place, my sanctuary. I love it here. Correction: loved it here. | permalink
Meredith: You can do this right? You're sure?
Cristina: Every GSW is different. Ok? It's not a blueprint. It's half instinct and half improv. And. I'm very good... for a resident, I'm very good. You can't be in there. I can't do this and if you're in there staring at me with big sad don't kill McDreamy eyes. | permalink
Steve Marsi is the Managing Editor of TV Fanatic. Follow him on Google+ or email him here.