Darn you, Modern Family!
I already considered your opening season one of the strongest in TV history. Did you really have to prove that this week by even making Kobe Bryant funny?!?
As a Boston Celtics fan, it was initially painful to watch the Lakers' star make a cameo on "Family Portrait." But then it was hilarious, as Kobe told Phil to step up his mental game the next time he approaches a celebrity.
Phil could likely benefit from sharper mental status in all situations, but let's hope he doesn't take Kobe's advice. The often-clueless husband and father offered up one great quip after another last night, from his description of a family photo in one giant bed, like Willy Wonka (Ridiculicious!) to his Hurt Locker-inspired advice to Luke (Put the 'he' in hero).
He also got to kiss Gloria. It was a good week for Phil.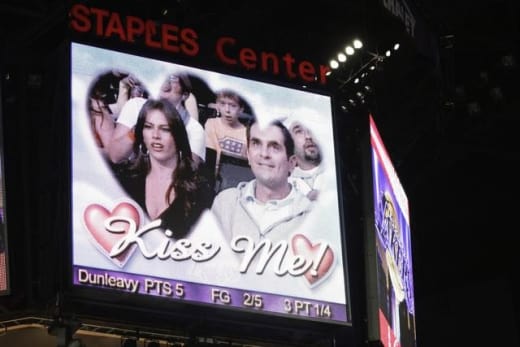 While the Mitchell/pgeon storyline was a bit outlandish, this season finale proved that Modern Family is capable of taking average situations to which we can all relate (a broken step, a boring school project) and making them laugh-out-loud funny simply by telling stories through the eyes of lovable, unique characters.
It's been the most consistently humorous show on television since it debuted and we're gonna laugh a lot less this summer.
But you can always visit TV Fanatic for the the best Modern Family quotes from the last few months! Examples from this episode are below.
Cameron: I get it, you're terrfied of small talk and birds, you're just lucky that pigeon didn't want to chat you up about the weather. | permalink
Claire: Quick, quick tell me something to say that will freak him out.
Haley: Tell him I'm pregnant! | permalink
Gloria: The question is, why isn't all your underwear good, Jay? You make a nice living! | permalink
Phil: Ordinarily I'm a rule follower, but when someone tells me I can't bring my own snacks into their stadium? That's when I get a little... nuts. It's a free country right? Let's just say it Ruffles me when some Goobers tell me I have to spend my half my PayDay on their hot dogs. | permalink
Manny: Hey Mom, I think my diet's working! My underwear won't stay up! | permalink
Matt Richenthal is the Editor in Chief of TV Fanatic. Follow him on Twitter and on Google+.