The United States of Tara Review: "The Family Portrait"
at .
With only a couple episodes left of United States of Tara, we are only just beginning to see just how deep Tara's rabbit hole really is!
"The Family Portrait" showed us a side of Max we never wanted to see! We know that Tara as Buck has been unfaithful to him, but did he really need to get back at her by sleeping with the same woman? There are so many things wrong with this picture.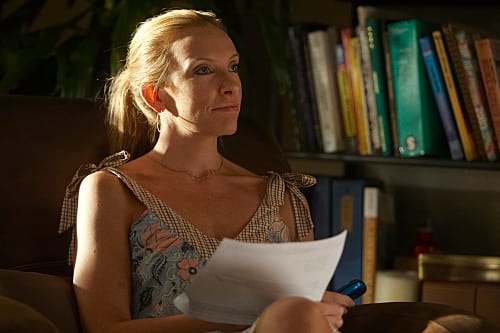 When he left the art show last week, we knew he was up to know good! For some reason, we still see Aiden in his character and maybe that's why we are so disappointed with him. Up until last night's episode Max was pretty much a very stand up guy. Why do you think he cheated on Tara? Was it revenge? We can't believe Pammy would want to get so personally involved...this is a bit too reminiscent of Jerry Springer for us.
Lynda's outburst to Kate really surprised us. We weren't sure what to make out of her relationship with both Kate and Tara. We kind of have to agree with Lynda - first Kate comes into Lynda's life and takes on the persona of her warrior Princess and then Tara comes in and uses Lynda as an escape from her life and family. What did Lynda get out of all of this?
We really can't believe that Nick would stick by Charmaine after she not only tells him she cheated on him, but is having another man's baby! Really? Would something like this ever happen in real life? We hope not! Poor Neil, he really does get the brunt end of the stick.
But our bigger question goes out to Nick - what is wrong with him? Charmaine is boarder line crazy and isn't even that attractive. What gives?
What did you think of last night's episode? Let us know!
Follow the jump to read a few of our favorite United States of Tara quotes!
Tara: What's going to happen to us - what's going to happen to our family?
Max: I don't know. I don't know. | permalink
Marshall: Nothing too splashy and in your face?
Lionel: I might be splashy and in your face if you're not too careful. | permalink
Lionel: Sometimes other peoples sh*t is just theirs. | permalink
Shoshanna: Max is very much in need right now of a firm gentle hand. Trust me, I know what to do. | permalink
Shoshanna: I'm like the cockroach, I persist. | permalink
Charmaine: He left him there like a cone. | permalink