In between the 2009-2010 season, and prior to the start of the surprisingly full summer TV session of shows, we're going around the dial and evaluating some of the biggest hits and misses on the small screen.
For example: we had nothing but good things to say about The Vampire Diaries. 90210, however? Not exactly a sterling grade.
Up now: Modern Family, also known as the best new sitcom to debut in years. These are all the reasons why...
Best character: Phil and Manny (tie). You can't make me choose just one! Ty Burrell is a master at physical comedy and he pulls off Phil's zany behavior with the perfect mix of seriousness and irony. Phil is mostly aware that he's a bit off... but he doesn't care. As for Manny? This is why he was excited about a vacation in Hawaii: Score! This place has an iron in the closet!
Best use of guest stars: I'll go with Judy Greer because she made Phil look sane and reasonable during her stint on the show. But it speaks to the quality of this sitcom that it was able to land Greer, Edward Norton, Elizabeth Banks, Fred Willard, and Minnie Driver in its very first season.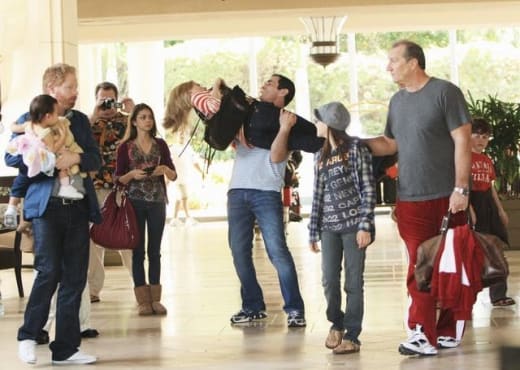 Best episode: Fizbo. Cameron as a clown. What else needs to be said? This episode also brought all storylines and family members together in an ideal conclusion to the half hour.
Best storyline: Phil's crush on Gloria. This bookended the season perfectly. I laughed for a solid minute straight early on, when Phil went out of his way (during a harmless family fight) to grab his step-mother and assure everyone, "I got Gloria! I got Gloria!" Then, it came full circle with the kiss cam on the finale.
Hopes for 2010-2011: Tone Cameron and Mitchell down a bit. Their storylines are rarely grounded in reality.
Overall grade: A. No show combined heart and humor like Modern Family. While it poured on the cheese factor a bit too heavily in the beginning, ending each episode with an unnecessary monologue that summed up lessons learned, it was smart enough to eventually do away with these.
Incredibly, after just one season on the air, the series has introduced us to such rich characters that even episodes without too many laugh-out moments are a pleasure to watch simply because we're spending time with these people. It's like The Office in that way, only it accomplished thisfeat in just a couple months. Amazing stuff all around.
Matt Richenthal is the Editor in Chief of TV Fanatic. Follow him on Twitter and on Google+.