We try to stay away from politics at TV Fanatic, but it's impossible not to comment on the similarities between last night's True Blood and the current debate over the role of Muslims in America.
On an episode that focused more on revelatory information than gory action, viewers watched as television commentators spoke on the dangers of vampires to human beings, and Arlene gave a speech that echoes the fears many people have these days of a mosque at Ground Zero.
We aren't taking a side on any issue; we're just acknowledging how True Blood may be best known for blood and breasts, but it can also be a social commentary on the real world.
With just two episodes to go until the season finale, "I Smell a Rat" revealed key pieces of storyline information that helped moved characters into place for the climax ahead. We learned...
Sookie is a fairy. She may have hilariously found this "lame," but it shed a great deal of light onto her role within the vampire world - literally! Eric insists Sophie-Ann sent Bill to Bon Temps in order to get close to Sookie because her blood makes their kind able to survive the sunlight.
Bill denies this accusation, but do we totally believe him? What about those family trees and articles about the Stackhouses in his home? Bill may truly love Sookie now, but that doesn't mean his original motives in meeting her were pure.
As for that Sookie and Eric kiss, pre-kidnapping: Yowza! Watching Eric balance his instincts for survival and his clear feelings for Sookie has been one of the best parts of season three.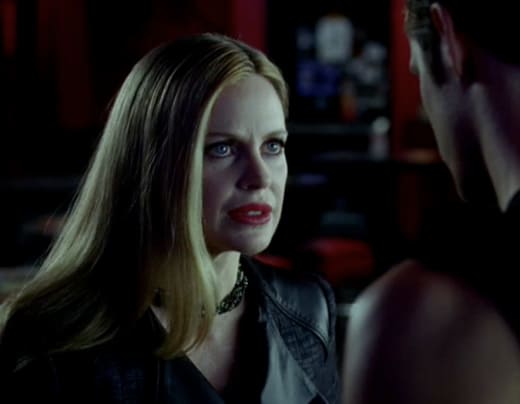 Sam killed two people. Raise your hand if you saw this coming. We now know where Sam got the money to open Merlotte's, and we might even know why he's always been so kind and patient with his female waitresses. This is a man with a guilty conscience over what he did to another pretty young female.
We know you feel badly about it and all, Sam, but if any bullets remain in that gun, can you shoot Tommy for us? Please?
Jason killed Eggs. Viewers already knew this nugget, but Tara heard it for the first time. Naturally, it led to another fit of crying for the annoying character.
Other notes/observations from a great episode:
You're a better man that we are, Terry. It's hard to raise another man's child, even if that man was not a serial killer.
Fighting is allowed and drinking is encouraged, but no religion or dancing at Merlotte's? Good to know.
So... Jesus' grandfather was a weird dude and both he and Lafayette have relatives that were slaves and used spells? There was far too much time spent on this random, V-based dream state.
Very good to see the tough side of Jason for a change. I've been growing sick of his dim-witted routine.
Crystal is a were-panther. Did anyone NOT see that coming?
For those wondering, the Talbot look-a-like that met his death at the hands of Russell was played by Michael Steger of 90210 fame.
Check out a bunch of True Blood quotes from the episode and then sound off: What did you think?
Matt Richenthal is the Editor in Chief of TV Fanatic. Follow him on Twitter and on Google+.