TV Fanatic Talks to Pretty Little Liars Star Keegan Allen!
Arlene G. at .
Keegan Allen plays the elusive and spine-chilling character of Toby Cavanaugh on Pretty Little Liars, this summer's guiltiest television pleasure.
TV Fanatic spoke exclusively with the actor this week, as he talked about Toby (spoiler alert: he'll return on next week's summer finale!), as well as his shock every time he reads the weekly script...
What is your response to the success of Pretty Little Liars?
When I first got introduced to my character, I didn't really have a lot of lines. The characters a very elusive guy and the writers did a really great job of bringing him in as this antagonist in the beginning. Upon reading the first few scripts that I got when I booked the role, I realized that this was going to be a really good success, and it was going to be a big hit.
Your character is pretty dynamic. One minute you like him and the next you're not sure what to think...
The writers and the directors are so clever in the way that they are able to portray him of this shadow that overlooks the whole time. They make him the black cat of Rosewood. It's all writing, all creative thinking from the standpoint of the executive producers and writers.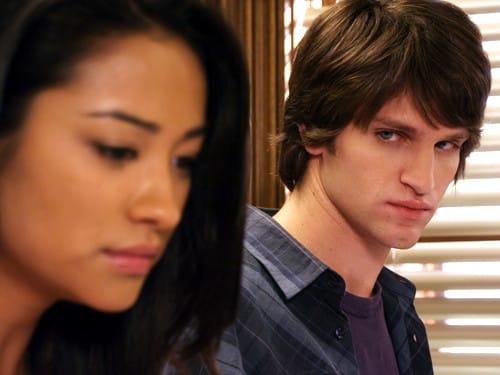 Are you surprised during read-throughs?
The girls know what's going to happen, but what's so funny is that when we all get together collectively as a whole ensemble of the writers, products, and the director for each director and the cast. We're all this big family huddled in the conference room, and when we read it we're all like "Oh woah!" We all have our moments where it's just as exciting for us as it is for the audience.
What are your likes and dislikes about Toby as a character?
My likes about Toby is that he is genuine and awkward. He's awkward in a way that I feel, especially when he talks to Emily, I like that he's authentic. He's a very authentic person and he means what he says and he says what he means. He only talks sometimes, and he has a few words, but when he does talk, he really thinks about what he says before he says it.
He never acts on impulse. He's a very thought-out, meticulous person. I like that he's very organized with himself even though the whole world around him thinks he's this creepy, weird, sketchy character, he's able to really remove all of that and know he can be his own man. I don't really dislike anything about him, I like that he's super weird and creepy.
Would you be friends with Toby?
Keegan: Definitely.
Was it easy to create chemistry with Shay Mitchell?
Yes. Actually, Shay made it really easy from day one. The cool thing about working on
Pretty Little Liars
is that everyone is so nice and professional, nobody has egos. Shay came right up to me, and we instantly clicked. Based on those story lines, we got closer and closer from hanging out on set all of the time. She's made it very easy, very open, and she's a really good friend so we built a great foundation and have been building on that.
It's fun as an actor to have those restrictions that Toby has, and play them colorfully with each other with those limitations. My limitation of my awkwardness and creepiness and her limitation of her friends and her demeanor of who she thinks she is makes for a much more colorful scene.
Which has been your favorite episode to film?
My definite favorite to film has been the Homecoming episode. It was just, oh my god, the most incredible experience to work on. It was a dream come true. Even getting pushed through glass, it was just the best thing ever. Working with Normal Buckley and his vision, and Rachel and her set design.
I never enjoyed my Homecoming, so it was cool to go Homecoming everyday for 10 days with all of my friends. It was like a do-over, even though I had a similar response…just joking. *laughs* Keep watching, because Toby is definitely a force in Rosewood, and it's good people are recognizing that and enjoying my character.