Castle Season Premiere Review: "A Deadly Affair"
Jim Garner at .
You know that comfortable feeling you get when you slip into a soft bed and snuggle down? Well, this week's season three premiere of Castle reminded me of that.
This episode picked up where one would expect it to, as Castle was away all summer to finish his book. When he returns, several of the people Castle has been working with are more hurt that he didn't call or catch up when he got back than they are over the fact he may have killed someone.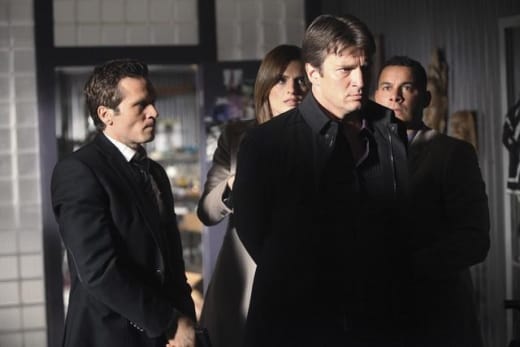 [Photo: ABC]
Thankfully, it didn't take too long for Beckett and Castle to be back on familiar terms, having them make a wager that would land Castle back on the team if he could figure out the connection between the victims before she could.
The debate that went on in my house was over whether or not Beckett had figured out the answer and "threw the bet," so Castle could come back; or if Castle really did figure it out before her. If Esposito was to be believed, Beckett didn't play fair. However, in rewatching Castle reveal the fake bills to her, I'm not convinced she knew.
Of all the shows I enjoy,
Castle
has some of the best writing on the air. The mirroring between Castle and Becket and that of Alexis and her young boyfriend was so well done. Castle dropping into defense mode due to Alexis' situation was both subtle and apparent at the same time. You can't help but feel his pain.
I think the biggest surprise for me in this episode was the lack of showing his ex-wife/publisher. If he really is in three-plus month relationship with her, why would he go three days without seeing, calling her, or even getting a call from her?
If he had not made mention to Beckett he was in a relationship, I would not have believed it, as neither Alexis nor his mother even mentioned her.
Still, it was a great episode and I feel like I am back home. I am now ready for the leaves to change color, the weather to get colder and for Christmas commercials to start airing any day now, as fall is here and we have up to many more episodes of Castle to enjoy.
Jim G. is a TV Fanatic Staff Writer. Follow him on Twitter.