Criminal Minds Season Premiere Review: J.J. Saves the Day
Steve Marsi at .
Criminal Minds' sixth season picked up where the last left off, with a cliffhanger, a beyond-creepy Tim Curry and a performance of a lifetime from the departing A.J. Cook.
It's a shame that "The Longest Night" marked a career high point for Jennifer Jereau, a character who just delivered so strongly, only to be shown the door next week.
Was this CBS' way of sending her off on a high note? If so, it worked in a sense. She was great. But it made us even more confused and sad about Cook's departure.
Casting issues aside, this was a solid episode of Criminal Minds. NCIS remains the network's procedural gold standard, but Minds isn't too far behind on nights like this.
We picked up right where we left off in May, with the FBI's Behavioral Analysis Unit fighting the Darkness, literally and otherwise. Darkness is one ruthless adversary.
With power grid maxed out, Los Angeles County plunged into a different kind of darkness, shifting the balance of power squarely to Tim Curry's uber-creepy character.
Eventually, we learned that his real name is Billy Flynn and that he killed his mother, a prostitute, when he was teenager. Yeah, that will scar you for life, no doubt.
With that piece of information, along with some intel about how Flynn loves to listen for news about his crimes, JJ got clearance to address Darkness via the radio.
Could she convince him to let Ellie go?
This was where Cook shined as JJ took on Hotch's usual negotiating role. She was petrified, but found the will to remain focused and strong. Very nuanced. Kudos, AJ.
Her impassioned plea may not heal the wounds of her character's departure among fans, but it did somehow set Ellie free. Soon after, the team confronted Darkness.
With hostages on the ground and gun in hand, Darkness' madness led to an even more intense scene. In it, the maddening Curry showed layers of this complex killer.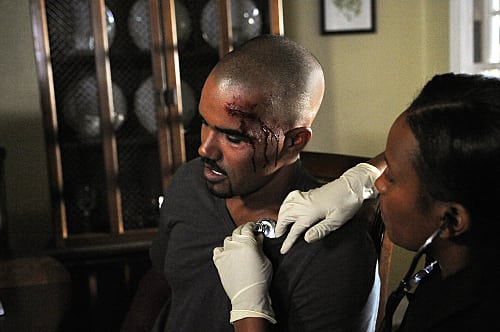 Displaying a trace of humanity, he wept as he recalled his mom's death, proving that no matter how repressed, there was some good in him, or at least a desire for it.
To say Morgan was unsympathetic would be an understatement. When Darkness aimed at a hostage, he ended up with a half-dozen rounds in him. Rapid-fire. Wow.
As the end quote, stemming from Buddha, said of families, "if these minds get out of harmony with one another, it is like a storm that plays havoc with the garden."
Morgan did what he had to do, and as a result, Darkness will never be allowed to play havoc with anyone again. A powerful ending to this strong, two-part episode.
What did you think of the sixth season premiere of Criminal Minds? Are you upset AJ is leaving? Are you excited for this season? Chime in below.
Steve Marsi is the Managing Editor of TV Fanatic. Follow him on Google+ or email him here.