NCIS: Los Angeles Season Premiere Review: "Human Traffic"
Steve Marsi at .
Airing immediately after the NCIS season premiere, NCIS: Los Angeles offered its usual change of pace from its parent series - much faster-paced, action-packed and more explosive.
We've enjoyed the show since the beginning and have never once come away disappointed, but it never quite compares to the original. It just isn't as character-based or compelling.
That said, it can still be a hell of a lot of fun.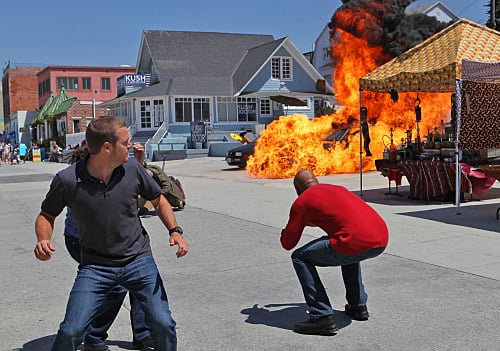 DUCK AND COVER: The 198th near-death experience for Sam and G.
Even the opening sequence of "Human Traffic," which turned out to be Callen's dream, was exhilarating. This show will get your pulse pounding with scenes that aren't even real!
Between that chase scene, the car bomb explosion and the revelation that Det. Mary Deeks is missing, we knew we were in for a thrill ride from the onset, and were not let down.
While Deeks going missing evoked memories of last season's story arc with Agent Vaile, the episode marked a fine introduction for Eric Christian Olsen as a new series regular.
There was the usual mix of cloak-and-dagger spy games and full-on firefights, with the team tailing Deeks without him knowing, and finally finishing off Serbian terrorist Lazik.
These guys end up in a lot of old warehouses and power plants, don't they? Every episode ending like a Michael Bay film may be a tad unrealistic, but at least they're big-budget!
The twist of the lead LAPD investigator, Scarli, being the link to the human trafficking ring was a nice twist, too. He could have been stonewalling them just because, and Deeks was already in danger. We weren't on the lookout for another bad guy until he figured it out.
Callen's insomnia and lingering attachment issues made for some intriguing character moments, too. When Hetty stunned G by purchasing him a house - Alina's house - you could sense how moved he was, however unfamiliar he may be with the concept of home.
Also, where is Nate's mission taking him? Not even he knew the details when he was shipped off. How many weeks will it be until Peter Cambor resurfaces, and in what context?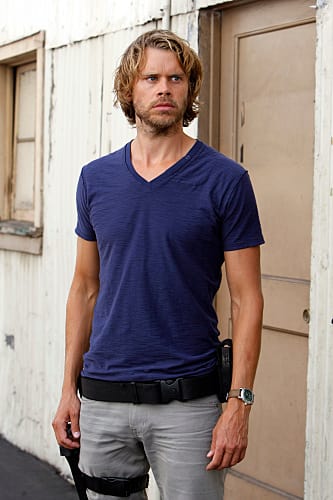 THE NEW GUY: Marty Deeks meshes well with the OSP.
The second hour of the season premiere event, "Black Widow," had little connection to the first, making you wonder why they billed it as a two-hour episode in the first place.
Regardless, by opening with the murder of NCIS Special Agent Williams by a professional hit squad in Cyprus from the vantage point of the killers, "Black Widow" had us hooked.
The killers' ties to a Chechen terrorist group whose leader, Vakar, had been presumed dead years ago, sent the NCIS: Los Angeles agents frantically searching for the next target.
With Callen posing as the "B" squad hitman and infultrating the group, he learns that a suburban housewife, Emma Mastin, is the next target. We later learn she was Vakar's wife.
Hetty, Deeks and Kensi, who were all terrific in this episode, learn that after Vakar's staged death, she became a highly trained "Black Widow" - a would-be suicide bomber.
She escaped before she could carry out an attack, however, and Vakar is after her - and their son. Cue inevitable firefight! Emma personally killing the hitman was a nice touch.
On a lighter note, the various cover stories and identities assumed by the agents are often hinted at, but rarely discussed so candidly as in this episode. It shed an interesting life on the sacrifices these agents make aside from being shot at pretty much daily.
A museum curator, Kensi? Don't quit your day job ...
Steve Marsi is the Managing Editor of TV Fanatic. Follow him on Google+ or email him here.