I was the first recruit to get out, and I'm going to make certain I'm not the last.
- Nikita
After watching the pilot, I'll start out by saying that Nikita was the perfect choice for The CW to place in the time slot right after The Vampire Diaries. It's full of action and excellent performances by Maggie Q, Melinda Clarke, Lyndsy Fonseca and Shane West. There is no show that can be compared to this on television right now, which makes for original and unique storylines.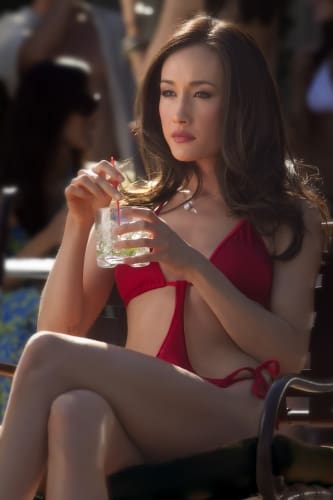 In the opening scene, the plot of the show is explained: Nikita was taken out of prison, and forced by a secret unit of the government called "Division" to be an assassin. Years ago she escaped and has been pursued ever since. Her goals: make sure that the other recruits get out and avoid her life, while ensuring the government gets shut down.
The first scene is a masked heist, in which we meet a very young girl, Alex (Fonseca). Someone shows up in a pig mask, killing the civilian that threatens to kill Alex. In the end, you learn that Nikita was the "pig," and saved the heist, leaving right before the police arrive so Alex could be arrested. Nikita is a woman who wants crimes to be committed, only so the government can fail to stop them.
Alex is a real live-wire, with a lot of fire and fight, which catches the eye of the government's recruiter, Michael (West). It's hard not to admit: this girl would make a perfect assassin. She threatens to kill her "military charm" coach Amanda (Clarke), only to be told that there is no way out. She's in for life.
When the criminals are brought into Division, they are announced dead by suicide or fake execution to the public. To the world, they no longer exist, and this program "gives them a new life, where they will serve their country," and that's the line they use to seduce these troubled kids. Alex is shocked by the program, which shows kids training for the kill.
I enjoyed Nikita's antics throughout the episode, along with the cat-and-mouse games she created with the government. She pays visits to her dead civilian fiancé's grave, who was killed by Division; and her formerly abusive adoptive father. Nikita knows Division inside and out, and plays their games twice as good as they do.
During most of the episode, I felt sympathy for Alex. However, my jaw dropped at the end when it was revealed that she is in cahoots with Nikita to bring down the government assassin program.
I am extremely curious as to how exactly Nikita ended up in prison, and eventually in this program, and how Alex will be used to free these kids.
The pilot also hints at some kind of relationship between Nikita and Michael, which I'm hoping they delve deeper into. The flashbacks of Nikita and her civilian fiancé are extremely heartwarming, and I hope to see more of her life before she was recruited.