Welcome to this week's edition of The Vampire Diaries Round Table!
Following an episode that shed new light on the Lockwoods, paired up Alaric with Jenna and gave us a closer look at Caroline as a vampire, our staff has gathered to analyze "Bad Moon Rising." Join the discussion below in our Comments section and/our our show forum...
What was your favorite quote from the episode?
M.L. House: Gotta go with Caroline calling out Stefan for his impressive ability to brood. I laughed out loud at the reference to his "Hey, it's Tuesday" face.
ViddWizard: Damon's reply to Alaric: "There is a huge asterisk next to that statement: he came back to life." I love Damon's wit
Elena: Damon to Vanessa: "If you wanna see me naked, all you have to do is ask."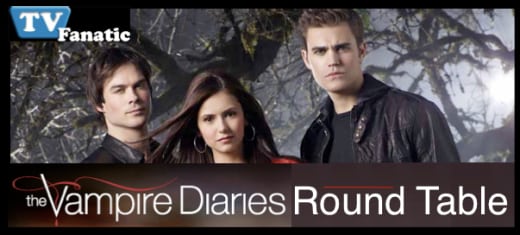 What do you think of Caroline as a vampire so far?
M.L. House: I think she's hilarious. If Damon is conflicted and Stefan is melancholy, Caroline is a breath of light-hearted, immortal air. You know, like an insecure, neurotic control freak... on crack.
ViddWizard: Rockin' my socks off! Should have changed her last year.
Elena: I'm actually pleasantly surprised with Caroline as a vampire. I almost like her better than human Caroline. I didn't expect them to have her actually bite Matt, but it is The Vampire Diaries, and it did play a part in her ending the relationship to save his life.
Elena ending her friendship with Damon: Fair or foul?
M.L. House
: Totally foul. Let's face it, people: Jeremy is annoying! His brooding makes Stefan's Tuesday face look downright joyful. He's also sort of a wimp. Elena should be thanking Damon for almost ending her brother's life. The last she can do is flash the guy.
ViddWizard: Given his recent tantrum after he tried to kiss her (in which he killed Jeremy), I would say fair.
Elena: The thing that makes it fair is the ring. Damon didn't see it, which makes what he did totally unforgivable.
Come up with a relationship nickname for Alaric and Jenna.
M.L. House: Anna. It fits, and its an homage to Jeremy's recently-lost love.
ViddWizard: Really? who started this trend? Okay... Alenna. Wait, that's actually kinda cute.
Elena: Jelaric.
Who would win in a fight: Mason Lockwood or Jacob Black?
M.L. House: Jacob. He could do it with two abs tied behind his back.
ViddWizard:I am going with Mason. He just seems a bit scrappier to me.
Elena: Definitely Mason Lockwood. Jacob's wolf is bear-sized, but Mason has more wolf experience.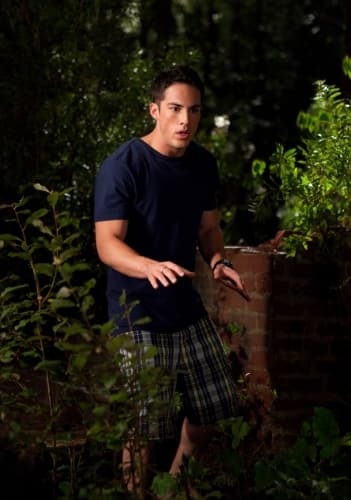 Matt Richenthal is the Editor in Chief of TV Fanatic. Follow him on Twitter and on Google+.