I am a huge J. J. Abrams fan, specifically of his brilliant work with the first couple of seasons of Alias. Therefore, when I heard that he was revisiting the spy world in Undercovers, I was ecstatic.
The thrilling spectacle Abrams created the first time around is what ignited my love for scripted television, and in particular for mythology-heavy serialized fare.  Needless to say, when I sat down to watch Undercovers for the first time, I had huge, unrealistic expectations - and I set myself up for disappointment.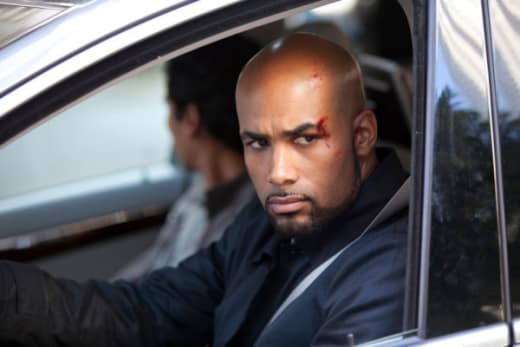 Undercovers premiere on NBC on September 22. It's worth a viewing or two.
After building the anticipation so much, how could my initial reaction be anything other than... meh?  So allow me right off the bat to advise anyone going into this expecting Alias 2.0: adjust your expectations. Undercovers may be another Abrams entry in the espionage genre, but it bears little resemblance to its predecessor.  And for the most part, that's just fine.
I watched the pilot a second time, trying very hard to block out any mental reference to that Jennifer Garner vehicle.
Once I did that, I actually found that I enjoyed
Undercovers
a great deal.  Let's just be clear: there is essentially nothing groundbreaking here, although Abrams does provide an interesting look at how a married couple might navigate the spy world together.  
The basic premise follows two former CIA operatives, Stephen and Samantha Bloom (the insanely gorgeous pairing of Boris Kodjoe and Gugu Mbatha-Raw), who fell in love and left the agency to have a "normal life" as caterers, but are reactivated when a former associate goes missing. 
Suddenly realizing how mundane their day-to-day existence has become, they yearn for the excitement of their former lives and agree to take on one assignment.  Traversing continents, the two come to learn a lot more about each other than they bargained for, and end up falling in love all over again.
While I may not have been blown away by the pilot, I think this show has definite potential.  The two beautiful leads fuse together seamlessly as husband and wife, and I think they balance the CIA action with the marital moments quite adeptly.   
Gerald McRaney is amusing as the Blooms' abrasive handler, Carlton Shaw.  Hopefully, upcoming episodes will feature more dangerous scenarios and foes confronting the duo.  If the writing stays fresh and the series can introduce some twists and jawdropping cliffhangers, something I thought was missing from the pilot, I believe NBC might have a hit on its hands.
Jeffrey Kirkpatrick is a TV Fanatic Staff Writer. Follow him on Twitter.