NCIS: Los Angeles Review: "Little Angels"
Steve Marsi at .
With heavy does of eye candy and guaranteed pulse-pounding action, we've never once been let down by NCIS: Los Angeles, but it often lacks the depth of the original NCIS.
When we're given a truly compelling case we're invested in - the kidnapped daughter of a Navy Commander - and a personal connection to one of the team, that's a different story.
These components nearly put "Little Angels" on par with last season's Callen family mystery and Dom story arc, thanks to Sam's flashbacks and a victim we wanted to see rescued.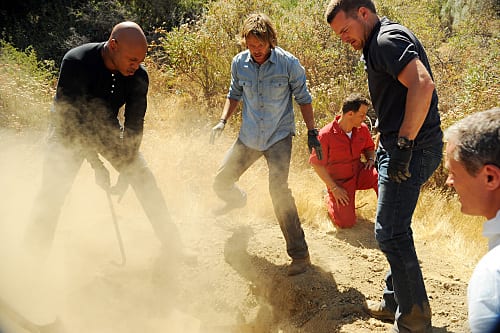 BURIED ALIVE: This case was grisly and intense, even by NCIS: LA standards.
When a teenager is kidnapped from her home in the Angeles National Forest and buried alive, a video of the burial is sent to her dad, a high-ranking Navy intelligence officer.
The team suspects his secrets may be the target of whoever did this, but it turns out the killer just enjoys making people suffer. This case visibly strikes a chord with Sam.
He, too, was once buried and left for dead, as a Navy Seal in Bosnia.
The show often reaches a bit to establish the military angle with these high-stakes cases, which it even acknowledged this week. Sam begged Hetty to stay on it, even though this is now an FBI case, after a personal appeal from the father.
Unlike on NCIS, there was no time for inter-departmental squabbling here. Just a thrilling race against the clock with all hands - FBI, NCIS special ops and viewers - on deck.
Putting the girl's face on the big screen with the timer not only motivated the troops, it left us more invested than we usually are with, say, a standard Serbian arms dealer.
The case was interesting to watch unfold, too, as the kidnapping pattern matched that of a convicted serial killer, Timon Maragos, whose brother's car left the scene this time.
Alex Maragos, a married father of two, was immediately suspicious and during intense questioning, Sam catches him lying about his whereabouts the night of the kidnapping.
Meanwhile, Deeks talks to Timon in prison, and the convicted killer attempts to implicate his brother in the previous murders and Ashley's kidnapping. We're going in circles.
After Alex's lawyer finagles his release, he attempts to flee the U.S., only to have Sam shoot the tires of a private plane to halt his escape. Why's he running if he's innocent?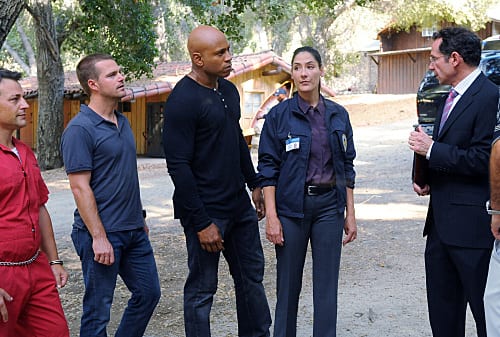 ALL HANDS ON DECK: NCIS and the FBI race against the clock.
Because he didn't kill anyone, but his alibi is ... a sex tape with his mistress. Not the card you want to play if you can avoid it. Nor the tape you want to play, if you're Deeks.
The team doesn't know who to believe and the clock is ticking. Callen comes up with a long shot plan to set a trap for both brothers, with the help of Eric's computer skills.
Eric superimposes a surgical glove into a screen cap to make it look like there's DNA evidence left behind, in hopes that someone returns to the scene of the crime to get it.
Someone did, but not who they expected.
It wasn't Alex or Timon, but rather Alex's two teenage sons, who admired their murderous uncle and wanted to see if killing felt as good as he described. Sick, twisted stuff.
Ashley is rescued just in time by Sam, who took this case to heart. The images of him underground with his wounded partner were difficult to stomach, which was the point.
Watching his partner die next to him in that steel box, Sam had always felt guilty about surviving and saving someone in a similar situation was particularly important to him.
Now he's passed on the responsibility to Ashley. Poignant. Great drama, acting from LL Cool J and long-awaited back story on an NCIS agent whose past had been a mystery.
What did you think of last night's NCIS: Los Angeles?
Steve Marsi is the Managing Editor of TV Fanatic. Follow him on Google+ or email him here.