Your love of last night's South Park will rely totally on how much of an obsessed fan you are.  The show's satire of the BP Oil spill and Captain Hindsight were decent, but the highlights were definitely for long term fans.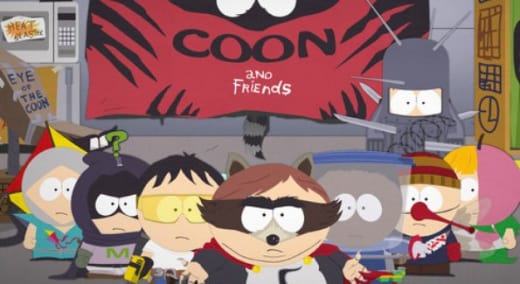 Sure, Tony Hayward's apologies had us laughing and the entire scene with DP and drilling into a third hole on the moon (the mouth, get it?) was one of the best parts of the episode, but "The Coon 2: Hindsight" was written for loyal fans.
The satire elements on their own were not enough to make this episode hold up, but when you bring back the Coon and Mysterion, we're on board.  Ever since the two made their appearance last season, all we've wanted to know... who is Mysterion?  More on that analysis after the jump.
So in addition to some great South Park quotes, some of our favorite moments were showing Willzyx and Tom Cruise on the moon, the return of Cartman's Antonio Banderas sex doll in a superman costume, and any scene with Professor Chaos.  But where's our General Disarray?
Now on to our analysis of who we think each superhero is, and possibly who Mysterion is.  Please hop in and give your ideas!
Coon - Cartman
Mosquito - Clyde or Kenny (?)
Human Kite - Kyle
Tupperware - Token
Iron Maiden - Timmy
Tool-shed - Stan
Mintberry Crunch - Kenny or Bradley (the blond hair?)
Mysterion - Clyde or Kenny.
Maybe it's just wishful thinking, but there's a decent chance Kenny could be Mysterion.  We just have to hope next week is the followup episode and we get a little Coon 3: Coon Rising.  Get it?  Cause of the new Batman movie title that was announced yesterday.  Eh, tough crowd.
Overall, we enjoyed the episode, if nothing else for the fun throwbacks, but it just wasn't as strong as some of the other season fourteen offerings. 
Again, we appreciated the BP satire, but it just felt a little dated and not that biting.  And who was Captain Hindsight supposed to be mocking?  Obama?  Congress?  Every reporter during the event?  We definitely watched it more to have fun with Coon and friends.
Eric Hochberger is the programmer of TV Fanatic, so please forgive his mediocre writing. His programming is far better. Follow him on Twitter and/or email him. Just don't request threaded comments. They're coming.