The Amazing Race Review: "We Should Have Brought Gloves and Butt Pads"

Luke Dwyer at .
This week's episode of The Amazing Race, "We Should Have Brought Gloves and Butt Pads", reminded us that competition on the race is a team effort more. 
Despite individual challenges such as the Roadblocks, the ability to work with your teammate and know their strengths and weaknesses is as important as your own ability to carry the team.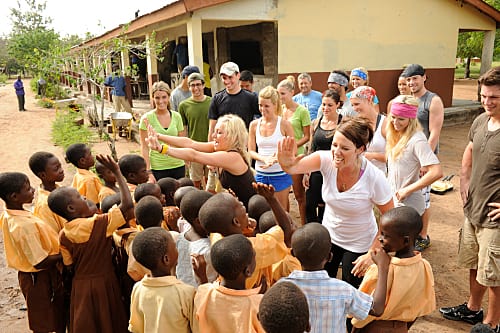 Sure, sometimes what the race throws at a team and how that plays into their strengths and weaknesses has a large element of luck to it.  This week's Detour challenged teams to cruise down a snow track on a new Tech Sled or complete a tedious native tent build. 
As Vicki said, "We're more of a physical couple than mental" and their experience skiing and riding enabled them to nail the Sled course in one try and pass three teams in the process.  Knowing they were a better physical team than mental didn't help this leg, the sleds were an obvious choice for this Detour.
That recognition has already helped them in the past.  They didn't waste any time last week attempting the decoder challenge, despite that it should be faster if teams are able to figure it out.  Realizing this wasn't a challenge for them, they went immediately to the bicycle rim spinning.  Because they did not spend time flipping between challenges like some of the other teams, they finished in fifth place, safely away from elimination.
Kevin and Michael have been the poster children for knowing your strengths and weaknesses and this week they executed the philosophy to perfection.  After brilliantly removing the danger of the Speed Bump by finding a faster flight (more on this later), the pair spent the majority of the race in first place.  However, upon arriving at the Detour, Kevin recognized the dangers the Sled option could pose his father.  Although the tent building would certainly take longer and prevent them from winning, by not wasting any time with the sleds, they guaranteed safe passage to the next leg.
This sort of recognition is something Chad and Stephanie should have managed before even attempting the Sleds Detour option.  Stephanie has to be given credit for giving Chad a chance to partake in the Tech Sled riding and even attempting the course herself, but her fear of this sort of activity should have pushed her to the Beds. 
Fortunately for the pair - particularly the stubborn Chad – Stephanie acknowledged her inability to complete the course after the first run and the pair switched challenges before anyone else was forced to.  While I'm not a fan of Chad's aggressive approach to dealing with Stephanie, hopefully this will help them recognize in the future when they need to suck it up and compete in challenges that are more suited to their skill set.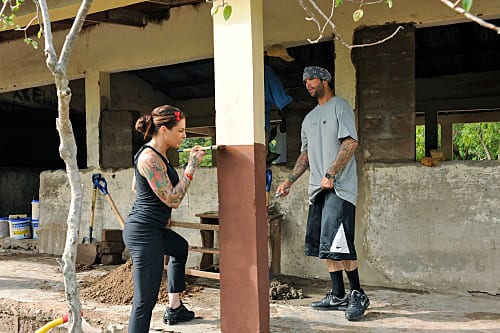 Perhaps most importantly, this episode emphasized the importance of understanding your partner.  Kevin understood his father's shortcomings and made the right decision for their team based on them.  If Chad was cognoscente of Stephanie's fears, they wouldn't have wasted time with the Sleds (but lucked out when other teams had the same problems).  I'm guessing that Kat and Jonathan, if they had been asked after one sled run how they were doing, would have admitted that they were unlikely to finish the course and should switch.
Switching challenges at the Detour is typically a recipe for disaster and elimination on The Amazing Race.  But, if teams are going to do it, they need to recognize quickly the unlikelihood of completing the current challenge to move on to the opposite one.  The recognition from Chad and Stephanie saved their race, despite not believing it at the time.
Rather than give applause to Michael and Kevin and Nat and Kat for looking in to better flight information to Sweden, I need to chastise the remaining teams for not checking themselves.  It is as if these teams have never watched The Amazing Race before.   More often than not, there are always additional flight options available and it is not hard to find out. 
Connor and Jonathan had over a one hour head start on the other teams coming out of the last Pit Stop.  While their time advantage was destroyed, they should have used that advantage to get on the earlier flight that Michael and Kevin did.  By not doing so, they inadvertently ended their time on the race.  How all eight teams in front of Michael and Kevin failed to take advantage of their edge was incredible.  I'm glad to see a smarter team like Michael and Kevin survive.
Other thoughts from this week:
Glad to see the teams perform some community service for the rural Ghanaian school.  I'm surprised that teams have not done stuff like this before, but I guarantee you we see it more often in the future.  There are tons of great pictures from their work in our photo gallery. 
I love Mallory's spirit and she's a refreshing change from another former beauty contest winner, Caite from last season, but I'm not sure how long I can take her screaming.
Speaking of spirit, does anyone top Brooke?  She's indefatigable.  She's won me over with her enthusiasm and positive energy.
Although it didn't play much of a role in the leg, I loved that teams who missed a flag while running the sled dogs had to run a penalty lap.  It was similar to a very popular Scandinavian sport, the Nordic Combined (cross country skiing and target shooting).  When you miss a target in the Nordic Combined, you have to ski a penalty lap (typically 30 seconds at the elite level) before continuing on the course.
How do people like Chad get away with yelling at their girlfriends the way they do?  If I did that to my girlfriend, she'd probably quit and she absolutely loves The Amazing Race.  The principle of me yelling at her would trump her love for the race.
I'm sad to see Connor and Jonathan go.  While they were not the best team, they were one of the most entertaining.  I really appreciated the grace with which they left the game and loved the song they wrote and sang for their exit.