The Big Bang Theory Review: "The Cruciferous Vegetable Amplification"

Eric Hochberger at .
What does the Bruce Willis sci-fi movie, Surrogates, and last night's The Big Bang Theory have in common?  They're were both pretty mediocre.  Bazinga!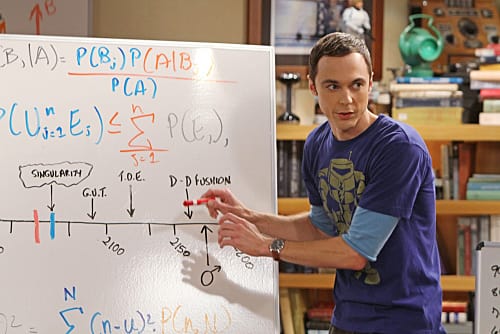 The ridiculous premise of last night's episode, "The Cruciferous Vegetable Amplification," revolved around Sheldon discovering he needs to outlast his projected life expectancy if he wants to have his consciousness transferred to a robot.
Sure, something that ridiculous blends in perfectly on TBBT.  From there, Sheldon tried all the usual tricks a regular person would: exercising, eating healthy, and building a surrogate robot of himself to represent him to the outside world while he hides safely in his room.
Like every other Sheldon story on this show, you have to suspend your belief on whether any person would be crazy enough to do half the things Sheldon would, and just go along for the ride.
This week's setup of a robot Sheldon led to a hilarious scene between Leonard and Shel-bot carpooling to work together.  Other than that scene, we honestly just didn't find the Shel-bot jokes on par with previous episodes.
Steve Wozniack also guest-starred Full disclosure: The Woz is one of our top three favorite technological visionaries.  So it's no wonder we thought he killed his scene as he poked fun at Steve Jobs and nerds. 
We easily forgive any mediocre acting by the guy.  He frigging co-founded Apple!  You help make the computer that allows us to review your performance and we'll never make fun of you, either.
We've been complaining for years that they need to ditch the "Raj can't speak to women" bit, but then this week they finally found a way to make it fresh again: having Wolowitz lying about what Raj is saying.
Unfortunately, we're running out of ways to make that joke clever and it still needs to go.  With Penny constantly just being inserted into the groups these days, our poor Indian friend will never deliver his hilarious lines.  Waste of good potential.
We also can't help but feel like the episode just fizzled out at the end without any real ending.  Sure, we'll always enjoy a "Penny, Penny, Penny" and a rendition of "Soft Kitty," but we could have used a little resolution as to why we won't see Shel-bot next episode.  I guess that's we get for devoting our television careers to sitcoms.
Now for our favorite of The Big Bang Theory from the Shel-Bot and crew:
Sheldon: I don't understand why you're not enjoying this. Together, in this car, with my enhanced capabilities, we're like 'Knight Rider.'
Leonard: Except, in Knight Rider, the car isn't a yammering sphincter.
Sheldon: You mock the sphincter, but, the sphincter is a class of muscle without which human beings couldn't survive. There are over 50 different sphincters in the human body. How many can you name?
Leonard: I was wrong. This is exactly like Knight Rider | permalink
Sheldon: You're 15th favorite technological visionary.
Steve Wozniak: Only fifteenth?
Sheldon: It's still six spots above Steve Jobs. I care neither for turtlenecks nor showmanship. | permalink
Wolowitz: Oh look! It's Leonard and R2-D-bag. | permalink
Leonard: Penny, Steve Wozniack was one of the co-founders of Apple computer. He and Steve Jobs...
Penny: Yeah. I know who he is. I watch Dancing With the Stars. | permalink
Eric Hochberger is the programmer of TV Fanatic, so please forgive his mediocre writing. His programming is far better. Follow him on Twitter and/or email him. Just don't request threaded comments. They're coming.