South Park really has an impressive way of tackling and mocking two pop culture fads simultaneously, while managing to tie them together and even have a little satire on marriage thrown in for good measure.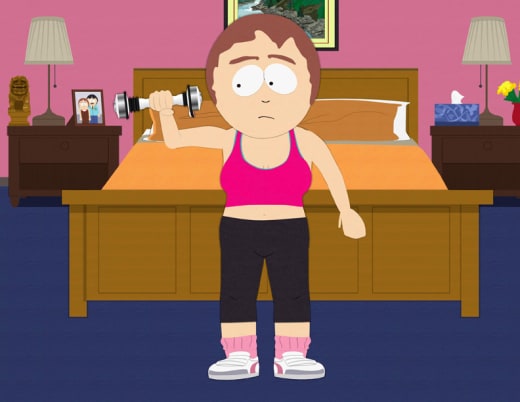 Initially, this week's fad references during "Crème Fraiche" seemed as simple as the Terrance & Phillip cartoon opening's mockery of Progressive.  However, maybe I'm over-crediting the cartoon, but by the end, the show proved why it's still the most sophisticated of the adult cartoon world.
Let's start with the Shake Weight.  The joke about these ridiculous infomercial devices looking like masturbation has been beaten to death (giggle giggle) in both real life and on television.  Even the different models like starting with a smaller white model and moving on to the black Big Jim weren't that original.
What made the Shake Weight jokes so fun was the fact Sharon opted for the voice-assisted model.  The fact it kept begging for quickies throughout the night and would immediately shoot out water, dispense cab fare, and go to sleep (mode) were hilarious.
In and of itself, the Shake Weight could have had one scene and been enough.  But the Shake Weight and Sharon had a much higher purpose to fill in Randy's A story.
Oh, Randy.  You're easily the most fleshed out of any of the non-kid characters and easily our favorite.  You're pretty much the go to guy when Stone and Parker need an adult character for an episode and that's a good thing.  You're damn hilarious.
This week, Randy got to mock the obsession with food shows and South Park put in some fun celebrity chef appearances by Guy Fieri, Bobby Flay, Mario Batali, Paula Deen, Ted Allen, Jamie Oliver, Giada De Laurentiis, and Giada's beautiful breasts.  Hopefully, we didn't miss one there.  Unless you count the greatest appearance of all: Cartman as Gordon Ramsay.
Somehow, they managed to turn Randy's obsession with the Food Network into something like a Playboy channel for him, featuring masturbation in front of the kids (sick!), Sharon blocking the channel, and a Food Channel sex line.
Like so many hobbies, Randy seemed to channel his sexual frustration into cooking, ignoring his wife.  Sharon tried to distract her failing marriage by working out and eventually running away with another man, Shake Weight.
It was all a very clever satire and a fitting ended as Sharon used her new training to give Randy an "old fashion," making him finally get his much needed sleep and forget about cooking.  Cooking is dumb.
Overall, we liked it, but it doesn't hold a candle to our favorite satire episode of the season, "Medicinal Fried Chicken."  That's a shame because that was the final episode of season fourteen.  We'll leave you with some South Park quotes from the episode and we'll be back in April when season fifteen returns!
Randy: You gonna deglaze that f**king pan? I'd deglaze the f**k out of that pan. | permalink
TV Announcer: Passengers said the Carnival Cruise line smelled like poop, but that was an improvement. | permalink
Shake Weight: Your work out is finished. Here is some cab fare. Now going to sleep mode. | permalink
Cartman: Well, hearing you bitch about your dad is super interesting, Stan. I hope you do it all lunch period. | permalink
Sharon: Shake Weight, you're not really work out equipment, are you? | permalink
Eric Hochberger is the programmer of TV Fanatic, so please forgive his mediocre writing. His programming is far better. Follow him on Twitter and/or email him. Just don't request threaded comments. They're coming.