The Amazing Race Review: "Run Babushka, Run"

Luke Dwyer at .
Last week, I ripped episode five of The Amazing Race, calling it boring and too controlled.  I pined for the days of multiple forms of travel, difficult challenges and frequent changes to the race standings.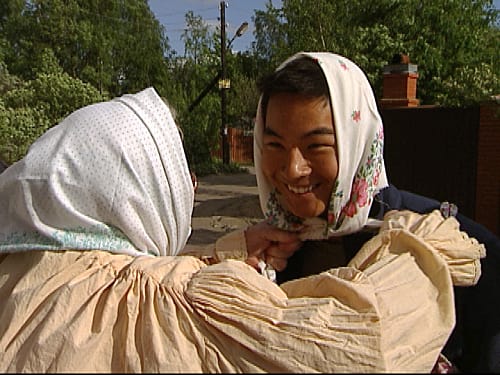 Apparently all I needed to do was ask for a return to the more interesting days of The Amazing Race's past and we would get that.  This week we were treated to a difficult leg filled with drama, second guesses and a dynamic feel to the entire episode.  I joked that "Tastes Like a Million Dollars" would not be sent to the Emmy committee. 
If "Run Babushka, Run" were submitted for judgment, The Amazing Race would retake the Emmy for Outstanding Reality Competition from Top Chef.
My favorite aspect of this week was the Detour.  Two very difficult choices, but each could be completed quickly.  Classic Cinema could have been accomplished quickly with a bit of luck, while Classical Music could be finished quickly with patience and focus.  Don't believe me about Classical Music?  Nick and Vicki lamented that, after taking each song one at a time, they finished the challenge fairly quickly the first time around.
As I'm sure many of you do, I like to pick which portion of the Detour I'd try before the racers make a choice.  I watch each week with fellow TV Fanatic writer Lady Gaga and we debate which one would be better for our skills. 
In general I always try to avoid the challenges that are luck.  Additionally, for this week, Lady Gaga and I have a decent musical background, so Classical Music seemed to be the best option for us.  Our plan of attack would be for one of us to listen to song #1, while the other takes song #2.  Once we've identified the correct piano, we'd come back, each listen to song #3 and finish the challenge that way.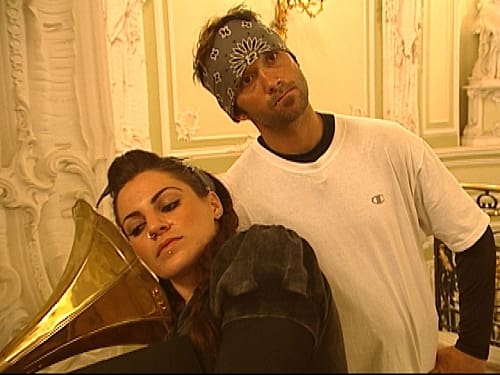 We had the benefit of knowing that there were a lot of pianos playing at once, making it very difficult to try and handle more than one tune at once.  I give a pass to the teams who tried to do all three at the same time on the first pass.  However, after realizing what a cacophony of sound was in that room, I was surprised teams did not try Nick and Vicki's more methodical approach for every subsequent go around.
The Classical Music Detour option also gave us the fun dynamic of teams debating whether to switch challenges.  This is always a risky move, but occasionally can be the correct one.  For instance, see Chad and Stephanie's correct decision to switch from Sleds to Tents two weeks ago.  The decision to switch Detour challenges should be based on a physical inability to complete the challenge, as in Stephanie's case two weeks ago.
If Nick and Vick were able to complete Classical Music, all of the racers were capable of figuring out the piano tunes if they simply took their time in doing so.  For that reason, Gary and Mallory and Nat and Kat cannot be lauded for switching challenges, but merely be called lucky.  Nat and Kat's luck was not lost on Nick when the female doctors were the last at Classic Cinema, but first to leave. 
Along a similar vein, I applaud Stephanie's conviction with the Classical Music challenge.  She recognized that it was not a challenge that they were incapable of completing, but simply one they needed to focus on and take slowly.  When the brutish Chad finally relented and gave the reigns to Stephanie, the pair finished the challenge and probably saved their race.  Once again Stephanie's understanding of the Detour saved Chad and Stephanie from elimination.  For their sake, hopefully he catches on to this trend.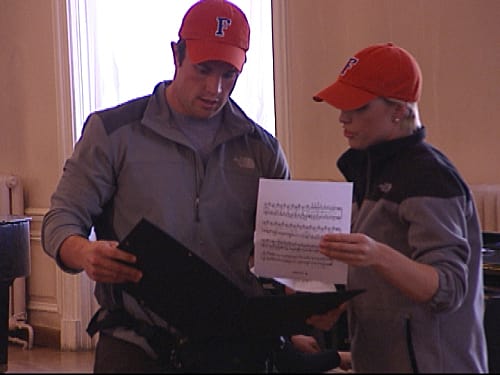 Although the traveling portion from Narvik, Norway to St. Petersburg, Russia ultimately did not affect the final standings at all, it kept things interesting.  Things would have been particularly interesting if Nat and Kat and/or any of the other leading teams were able to get a train out of Narvik to Stockholm, but would have had to wait for a flight out in Stockholm anyway.  The trailing teams would have been sweating, albeit unnecessarily, the seemingly significant margin the leading teams had on them. 
Nevertheless, teams were still put in stressful situations trying to find taxis and worrying that they'd miss out on the best flight out of Stockholm.  Additionally, we, the viewers, were not sure if Gary and Mallory and Chad and Stephanie, who struggled finding cabs out of the Stockholm train station, would get on the same flight as well.  This level of intrigue is as interesting to me as watching a team fail or excel at a challenge to change their position in the race. 
Other interesting points from this week:
The face on Nat and Kat after figuring out that their likely (we were not shown what it was) substantial lead from the previous week's Fast Forward was erased by the train departure the next day was priceless.  Welcome to the club of teams whose lead was erased by the dreaded next day departure.
I really love the change The Race made a few seasons ago to using the satellite images of the earth when showing the flight paths.
The dynamic of a dominant personality with a less dominant one is fascinating.  If Chad and Kevin had listened to Stephanie and Michael, each team would have finished higher in the standings, with Kevin and Michael winning their first leg.
Who else wants to visit St. Petersburg after the racers glowing reviews of the city?