The Amazing Race Review: "There's a Lot of Nuts and Bullets"

Luke Dwyer at .
On last night's episode of The Amazing Race, "There's a Lot of Nuts and Bullets," we were introduced to a new twist on the U-Turn: the Double U-Turn.  I wasn't sure what to anticipate when I first heard about the idea, but after watching the episode I'm confident the change to the U-Turn was a good one.
Previously, if one of the trailing teams was U-Turned, that was the end of their race.  Ok, so some teams have been U-Turned and not eliminated in the past.  However, if only one team was U-Turned last night, that team would have been eliminated.  The teams were too tight and they were too few teams for anyone to make up for having to do both ends of the Roadblock.  In the case of last night, Brook and Claire would have been sent home. 
Fortunately for Brook and Claire lovers (and you can officially count me as one of that elite group), they were bailed out by the Double U-Turn as Nat and Kat smartly U-Turned Chad and Stephanie as well.  This gave Brook and Claire a fighting chance and what turned out to be enough time to avoid elimination. 
The reason I like the idea of a double U-turn is that it does not doom one team, but it can still dramatically impact the race.  It also increases the importance of staying ahead the entire time, not just out kicking another team to the Pit Stop.  Lastly, it gives the U-Turned team a chance to keep their own fate in their hands if they race well enough. 
Although they didn't know it, Brook and Claire simply had to beat either Nat and Kat or Chad and Stephanie to the Double U-Turn so that they could U-Turn one of them and make the race for the finish competitive.  As it turns out, Nat and Kat did the favor for them, but the point remains that Brook and Claire had an opportunity.
The Double U-Turn is a change I hope the race sticks with in future editions.  I believe it would be even more fun earlier in the race with more teams involved.  As I always say, the more dynamic the legs are, the more interesting they are.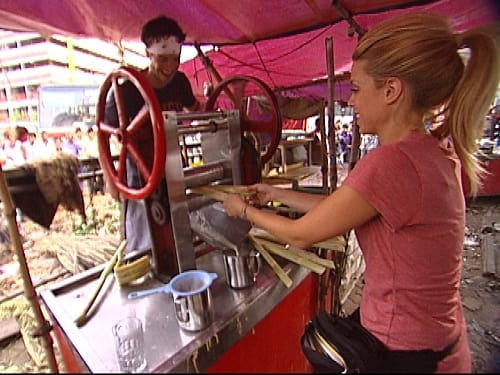 Speaking of dynamic, what a scene at the Oman airport!  Kudos to Jill and Thomas for overturning every stone to get the best flight possible.  I'm always amazed when teams lackadaisically accept whatever the flight everyone else is on and stop looking.  Chad and Stephanie were more interested in eating a burger and a milkshake than finding the best flight possible.  They deserved to be eliminated for not trying. 

On the other hand, I applaud Nat and Kat's bold move to fly to Dubai without a ticket to Bangladesh.  It was a risk, but they started the leg over four hours behind Chad and Stephanie and had to figure that all the best flights out of Oman to Bangladesh were taken.  Might as well get to a different city and see what you can do from there.  Definitely a risk, but they were likely in last place anyway. 

More from this episode:
Although an all-female team has never won before, Brook and Claire and Nat and Kat are definitely the favorites to win it all.  I'd rank Jill and Thomas third and Nick and Vicki fourth, but that's not to be disrespectful to either pair.  They're both strong and not far behind the girls.
Speaking of Nick and Vicki, who else was surprised to learn that second place was their best finish on the race so far?  Getting this far in the race without even finishing as high as second place, more or less winning a leg is hard to do.
Brook is awesome.  She's so positive about everything, it's very impressive.  Normally her personality would grate on me, but she's definitely won me over.  She also has the best quotes on the race by far.