The Real Housewives of Atlanta Review: "Hot Mama's Day"
Arlene G. at .
Talk about a Hot Mama's Day!
Last night on The Real Housewives of Atlanta, Kandi is hosting her "Kandi Koated Nights" webcast and has Kim as her guest. The topic? Cheaters? Does Kim consider herself one?
No way! And let's make it clear that she doesn't have "beef curtains" either! We also learn that Kandi has been in a contest with a friend to see who can remain celibate for a year.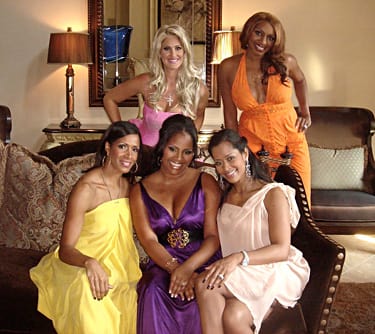 Nene and Cynthia are hanging out more these days since Nene's marital problems with Gregg have surfaced. Since Nene's plastic surgeon okayed her guzzling down wine again, Nene complains to Cynthia about her disintegrating 13-year-old marriage to Gregg.
This terrifies Cynthia and confirms her fear of marriage. 
Sheree preps for a dinner date with The Love Doctor aka Ty-E Muhammed and has her 24-year-old daughter Dawn, and her fiancee, come over to baby sit.
Phaedra and Apollo have a "classy" pregnancy photo shoot posing with a jar of pickles on the porch. The Love Doctor puts Sheree to work in the kitchen ... slicing strawberries and licking cookie dough off his fingers. Sheree says she's not used to manual labor.
The fact that The Love Doctor seems a little desperate turns her off.
Kandi asks her mom, Joyce, for advice on how to handle her daughter, Riley's, absentee dad who wants to participate in his daughter's life now after 8 years of ignoring the little girl. In a heartbreaking scene, Riley tells Kandi that she doesn't really care if she has a dad or not.
She's built up a hell of a wall and Kandi's afraid of bringing any man into her life after AJ, whom Riley grew attached to in a serious way. Meanwhile, Nene and Cynthia go bridal shopping aka they shop for new bras. Nene doesn't like wearing bras because she "paid for her titties to stand up" and she likes her "hooker boobs" (real high... nipples to the sky).
Cynthia invites Nene to her Mother's Day brunch. And what a brunch it is!  Kim bails because her kid is once again sick ( a recurring theme whenever Kim wants to get out of something it seems). Kandi shows up with Riley and Joyce.  Nene shows up with Brentt.
Sheree brings her daughter Kaleigh. Phaedra deigns to come to Cynthia's home which she explains is in a gentrification zone in which they turned the hood into the suburbs. She's also bringing Mr. Clean aka Apollo. 50-year-old Peter confronts Phaedra about her comments last week about him having five kids.
We learn that Phaedra has no idea when her baby's due. She claims that the doctors will be taking the baby out at 34 weeks because he's "all done." The ladies are horrified and Nene flips out. The chitc hat gets really raunchy when Kandi starts giving the ladies sex tips.
Pop Rocks aid in pleasing your man as does sugar in the va-jay-jay. Nene once again flips out and says she wants no yams up inside her! Mr Clean shows up with a Gucci diaper bag for his baby mama. 50-year-old Peter sticks his foot in his mouth when he tells Nene that the reason her marriage is falling apart is because she's like a log in bed just laying there.
Nene says she's not into manual labor and as far as she's concerned 50-year-old Peter has crossed the line. Nene's afraid of being alone but Kandi's mom Joyce offers her advice and tells her to let her guard down. Nene cries. She's one hot mama after all!
Follow this link for more Real Housewives of Atlanta!