After reading what Josh Reims, the co-creator of Undercovers, said about featuring more serialized storytelling, I foolishly allowed my hopes to be raised again for this show.
But "Assassin" didn't exactly deliver on that front. Still, for yet another standalone episode, it was quite heavy on plot.  And, to my surprise, I actually enjoyed it... for the most part.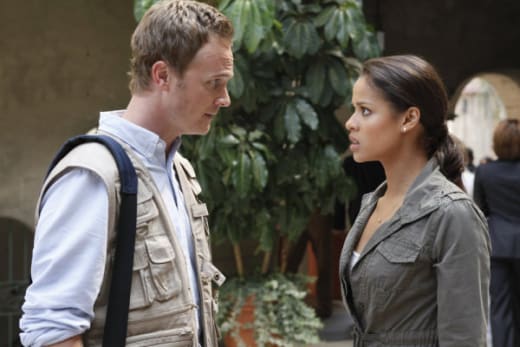 Leo was back, which was a relief, even if he was scarcely used.  He really does need to be in every episode.  He's been the most interesting character in the series, and Carter MacIntyre hams up his scenes with just the right amount of bravado.  Meanwhile, Samantha and Steven both stepped up to the plate, as she faced down demons from her past and he posed rather convincingly as a ruthless assassin.
For Sam, the mission became personal, as she attempted to atone for failing to save her CIA mentor who died right before she decided to leave the agency - which she finally revealed to Steven. He also pointed out how she gets too emotionally attached to their catering clients. 
It's a logical progression to do the same with those they are trying to protect.  This is a dangerous precedent, as it sets Samantha up to be more of a bumbling spy than a top notch operative.  As it is, she found herself captured, yet again, and had to be rescued by Steven/Leo.  Plus, that deer-in-the-headlights look she gets whenever someone stops her, as Ivanoff did in the bar, is way too telling. 
Sam needs some work on her poker face.
I admit, I was stoked to see David Anders (Julian Sark on Alias, John Gilbert on The Vampire Diaries, etc.), though he seemed terribly underused. His presence was essentially an instant revelation that he was the bad guy, although they did make a good effort to try and throw you off his scent. 
But I would have been happier to see him as a Sark-like character with a potentially longer term arc, even if it seems too reminiscent of its predecessor.  At this point, could it really do any harm to this already flailing series?
Speaking of borrowing from Alias, the rubber mask Leo ripped off actually felt more real here, with the bits of glue stuck to his face, than it did when Lauren used something similar to mimic Sydney in season three of Alias. So kudos to the special effects team for pulling this off so realistically.
Ultimately, the stakes seemed higher and the danger more "real," which is pretty much a requirement for a good show about spies.  As far as this series is concerned, this was the best episode yet.  Now it just needs to deliver on that promise of a serialized story before NBC pulls the plug.
Jeffrey Kirkpatrick is a TV Fanatic Staff Writer. Follow him on Twitter.