Brothers & Sisters Spoilers For 2011: Comings, Goings Galore
Steve Marsi at .
Brothers & Sisters picks up where we left off on January 2. That's this Sunday!
Plenty of fun Walker developments are on tap soon, Zap2it reports. Namely ...
Nora sees how popular her current beau, Dr. Karl, is with his female fans in the first episode back. It doesn't go over well. But it's nothing compared to what's next.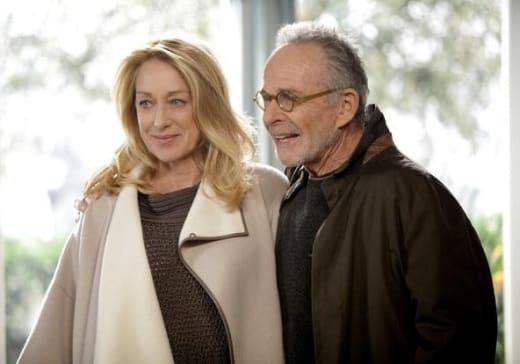 She'll reveal something at (surprise!) a family dinner that scandalizes everyone. Will that ruin the most viable relationship she has had in years? Stay tuned there.
Holly struggles as her memories come flooding back, but they may be too much for her to handle. She may want a timeout - Holly will consider leaving California.
On the January 9 episode, she and Nora have a startling revelation.
Kitty
continues her torrid affair with her boss' son, Seth (
Ryan Devlin
). But just as things are starting to get serious,
celebrity gossip
bloggers find out about it.
The tables turn, though, when Seth's mom has an interesting reaction to the news. Nevertheless, the relationship will get deeper for several more episodes.
Kevin and Scotty have fallen on hard times, but things are looking up. They're moving forward on becoming foster parents, and we'll meet a candidate soon.
Olivia will make her first appearance in the January 2 episode.
Tommy comes down for a visit and brings along his new girlfriend. Cara Buono (Mad Men's Faye) guest stars as Rose, who rubs the Walkers the wrong way.
Because she tries to talk about the family's history, of course.
Justin and Annie (played by Dave Annable's real life wife, Odette Yustman) are heating up, especially after an emergency situation bonds them even more.
But in the January 9 episode, Annie's handsome ex, Dr. Rick (Robert Kazinsky of BBC's EastEnders), pays a visit. Will Justin be able to contain his jealousy?
Saul will have his hands full of silver foxes. First, he'll find forgiveness for Jonathon (Richard Chamberlain), who he suspects gave him HIV years before.
The show throws a wrench into it, though, as Michael Gross shows up as a food critic who takes a liking to Saul. A love triangle for Saul? That's a new one!
Steve Marsi is the Managing Editor of TV Fanatic. Follow him on Google+ or email him here.