Burn Notice Review: "Brotherly Love"
Jim Garner at .
What's better than one Westen on the case? Two Westens.
Nate Westen was back on "Brotherly Love," making full use of his older brother's skills and talents by convincing Michael into helping locate some stolen cars.
We haven't seen Nate since the end of season three, when he tried to talk Madeline into moving to Las Vegas to be closer to him and her future grandchildren some day. I mention this for those that may not remember it because this episode marked the beginning of that aforementioned day.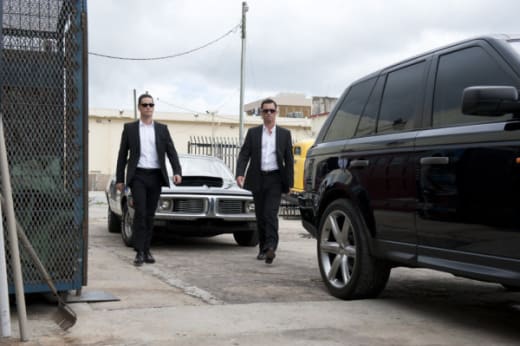 I'm actually surprised that Matt Nix and his team didn't remind us of that conversation after it came out that Nate and Ruth are expecting. I think it would have made the scene with Madeline and Michael more powerful had she mentioned something about why Nate wanted her to relocate.
It's very out of character for Nix to have setup great foreshadowing in season three and then not even refer back to it now. Maybe he's saving that nugget for when Nate's child arrives in the world. I have to imagine that Madeline is going to be torn once Nate Jr. is born.
Nate has come a long way in the four seasons of Burn Notice. He started as a con-man gambler and has now turned his life around, gotten married and will soon be a father. Nate is a great example of what I love about this show; it grows, evolves and expands.
The episode title possessed a great double meaning, too, as first it referred to Billy and Jeff Taylor that were "Nate's Clients." But it also referred to Michael and Nate, who had a bonding moment when they discussed Nate's impending child. 
It was great to see the reflection of brotherly love in both sets of siblings. Just to throw some irony on the fire, the episode aired on my older brother's birthday, so it was a good day for an episode about brothers (happy birthday, bro!) in general.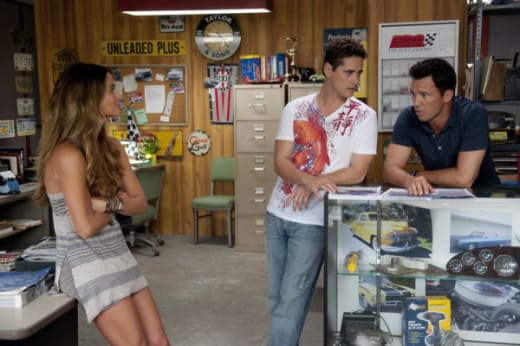 This episode also saw the return of Michael's car thief persona, "Johnny" (previously featured in season two episode "Hot Spot"). The dry wit and sarcasm of the character was great the first time and even better this time. While there are some personas that have bugged me, this one is in my top five and I really hope he gets to use it again.
The best news of all: Michael and the Scooby gang finally got the list of people who burned Michael. Now, the next phase of Michael's life can begin. However, we are left wondering until next week what he will do with the list. Will he turn it over to the authorities or will he exact revenge?
What should he do? What will he do? You tell us!
Jim G. is a TV Fanatic Staff Writer. Follow him on Twitter.