Grey's Anatomy Season Synopsis, Questions For 2011
Steve Marsi at .
The first half of Grey's Anatomy's seventh season is in the books.
It's hard to believe we first started watching the series in 2005. How time flies. In the aftermath of "Adrift and at Peace," let's look back at where we stand heading into this season's winter break and what's to come when new episodes resume January 6 ...
Yang is back. After a major internal crisis and a brief stint as a bartender, the fishing trip with Derek looks like it was just what the doctor ordered (pun intended).
Look for her to get her mojo back ... but fallout from the outdoor excursion may remain.
Owen supported Derek's effort, but Meredith did not. They clashed in the O.R., where Hunt labeled Mer a "reckless" bad influence. Things may be looking up for Cristina, but will her relationship with Owen last? Does it impede her, as Meredith says?
Out of Africa
: Arizona showing up at the door Thursday was heartwarming ... and heartbreaking. After putting Callie through the ringer over their plans to have kids, then leaving her in the airport, will she be welcomed back with open arms?
It's hard to see a way in which Calzona isn't in this for the long haul, but judging by the door slammed in AZ's face, there may be more growing pains before a permanent reunion.
After the "you look really pretty" line too ... harsh. Was it deserved?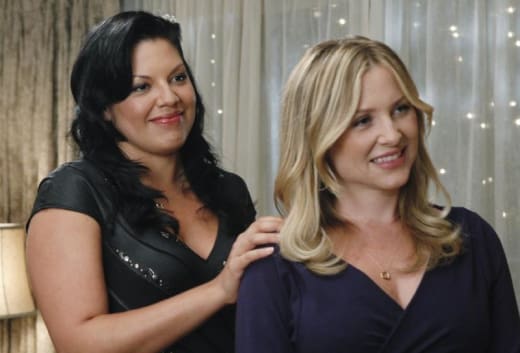 Henry is the new Denny: Former Felicity star Scott Foley's character had quite the profound effect on Teddy. She claims she's helping him to fill the void left by Cristina.
If Yang returns to form, will Teddy's interest in Henry fade? Or is it just beginning?
Her reasons for helping him may be complex, but there looks to be a spark, too. Considering how things turned out the last time a doctor got engaged to a patient, there may be some trying times ahead for Teddy and Henry. Just no ghost sex Shonda. Please.
MaLexie and MirEli: Are Mark and Lexie finally back on after he showed the kind of persistence we never knew he had and won her over at Joe's? The way she chose to stay, it looks like it. As far as the nurse who asked out Bailey, cross your fingers for her.
Her last boyfriend was stolen by Shonda for Off the Map, after all. That hurts.
What do you think will happen with these Grey's Anatomy story lines, and what stood out to you the most about the first half of the season? Are you happy with it so far? Discuss!
Steve Marsi is the Managing Editor of TV Fanatic. Follow him on Google+ or email him here.