How can you help someone that doesn't remember who he is?  This small obstacle is no match for our hero in Human Target, as Chance is able to save the day, even with the police after him.

On "Dead Head," Chance is hired to protect a man with retrograde amnesia.  John Doe wants help in figuring out who he is and why the cops are after him.  Doe wants to figure out if he really is a criminal.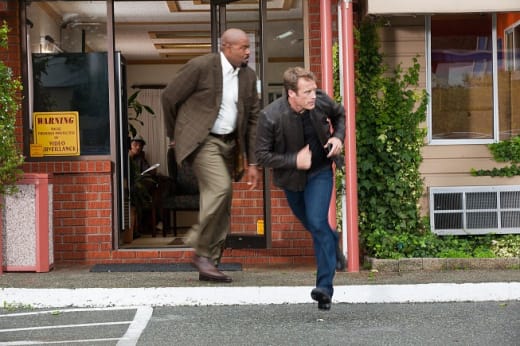 Winston personally gets involved in the case, by first knowing the crooked cop that is after Doe and also by having to visit his ex-wife to get a hold of old evidence.  We learned a lot about our hero's sidekick this week. Winston lost his job by being obsessed with busting Lieutenant Broward, which eventually ended his career and also his marriage.
Next, a bad ass biker gang tries to kill Ames and John Doe, which leads Chance to create a Molotov cocktail to save his buddies.  Thankfully, no one is hurt and the team quickly figures out the true identity of John Doe. He's a the Laundry Man, known to help crooked cops get rid of dirty money. All along we were secretly hoping Doe would turn out to be a good guy! 
Lieutenant Broward wants to get rid of Doe because he not only knows about his transgressions, but also has seemed to switch sides. Only problem with this story is that Doe has amnesia.  How can John Doe cause any trouble for Broward if he can't even remember who he is? 
In the end, Winston gets to bust his long time adversary and Chance helps John Doe start a new life. Seems like the entire team was made up of people looking for a second chance to make their life mean something. 
Maybe that is why this show is so entertaining, seeing a once bad guy now fight crime in a very unorthodox way.  Chance and his team don't exactly follow the rules.  They do whatever they want along the way to stop the bad guys, even if that means blowing up a motel room in the process.
Yet in the end, good always prevails over evil.  Kind of predictable don't you think?