Last night's finale of the seventeenth edition of The Amazing Race was not the most dramatic in series history. 
Nat and Kat's victory, while certainly awesome to see, was unfortunately predictable as their lead grew, impressively, throughout the episode. 
What the season lacked in drama in the final leg it more than made up for it with an unusually likable cast.  Only a handful of contestants were the kind you actively root against and even those were tamed by The Amazing Race standards.  Instead we were treated to a cast without a dominant group, but one that was easy to root for.
Take the final three contestants from last night.  Most people were likely rooting for either Nat and Kat or Brook and Claire.  Does this mean that Jill and Thomas were not likable?  Ok, perhaps they were not our favorites, but they were a very deserving team if they did win, right?  Thomas had a few jerk moments over the course of the race, but nothing too egregious.
The only contestants close to villains on this season were Chad and Nick, but both come with caveats to their occasionally deplorable behaviors.  Certainly Chad had a tendency to be boorish at times, but he wound up proposing to Stephanie in the middle of the race.  Not only that, but he used the wedding ring from his deceased mother, certainly a very special moment.  And who are we to judge – she said yes!
Nick's actions in the second to last leg of the race will tarnish his legacy from this season and with good reason.  As I mentioned after it happened, the way he treated Vicki in that leg is nothing any person, male or female, should have to endure from someone who is supposed to be a supportive partner.  What we can hope, however, is that what he said after being eliminated about needing to change is something he takes to heart. 
Any negativity that Chad or Nick brought to the season were completely overshadowed by a host of fun teams to root for.  Andie and Jenna: a feel good story, even if we didn't get enough of them.  Connor and Jonathan: comedy through song, a very fun combo.  Mallory: an endless supply of emotion.  Michael and Kevin: one of the best underdog pairs ever.  Fantastic cast.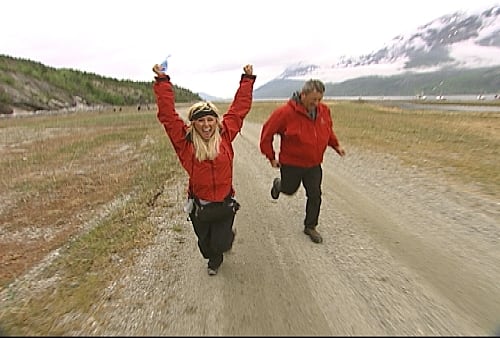 Even though this final leg was not the most dynamic with Nat and Kat taking the lead and never giving it back, it was definitely filled with fun moments.  The more recent The Amazing Race tradition of including some sort of memory-based challenge from the duration of the race has become fun to see what they'll come up with each season.  Although it didn't change the standings at all, the final challenge of matching the greeters at the Pit Stop. 
Perhaps my favorite part of the leg was the pseudo-riddle clue after completing the Roadblock.  Any clue that requires the racers to figure out where their next destination is, instead of just handing a cab driver an address, will always have a place in my heart.  Making this clue three-part where the answer to the first question does not necessarily answer the other two made it even more interesting.
My favorite take away from this season will be Brook and Claire.  Initially I assumed they would get on my nerves with their very feminine attitudes and overly bubbly personalities.  I envisioned them on the brink of elimination in a heap, crying after some physical challenge they were unable to handle.  I was very wrong.
Instead I was won over by a barrage of enthusiasm, comedy and unwavering perseverance.  On the initial leg Claire takes a watermelon in her face, but keeps on going.  Much to the enjoyment of my bizarre sense of humor, Brook died laughing when it happened.  Much to my surprise, Claire was able to laugh the incident off in a post-leg interview.  We were treated to twelve episodes of entertainment from them.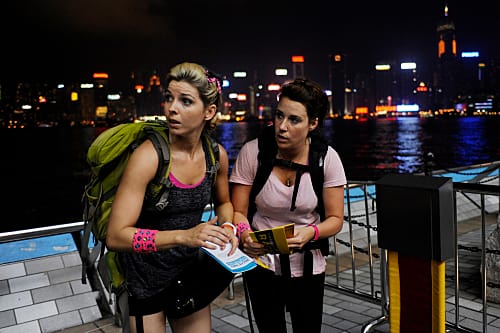 Congratulations to Nat and Kat for becoming the first all-female team to win The Amazing Race.  But, my heart still belongs to Brook and Claire.  Claire said it best after the race: We literally laughed our way around the world.
More thoughts from the finale:
I probably shouldn't admit this, but I was rocking out when Katy Perry's California Gurls was playing when they showed shots of Los Angeles.
Brook and Claire's leopard print outfits – whoa.
After all the build up over Nat's fear of heights, Brook blew her away with non-stop screaming after being dropped from crane.  Even after the majority of the scare was over, she was still wailing away.  And, yet, it was oddly endearing.
Did anyone catch Brook's Big Daddy reference after finally getting off the bungee swing?  "I've never been so happy to see a dingy or Scuba Steve in my life."
The helicopter ride over LA was awesome, but really reduced the drama of the leg.
As I mentioned earlier, the Pit Stop greeter challenge was great.  It would have been really great if two teams were there at the same time.
Don't forget to check back with TV Fanatic this January for my preview of The Amazing Race: Unfinished Business!