The Big Bang Theory Review: "The Alien Parasite Hypothesis"

Eric Hochberger at .
As you know from my Big Bang Theory reviews, I'm still on the fence with Amy.  She was obviously designed to be a female Sheldon, but just doesn't come across as funny each week.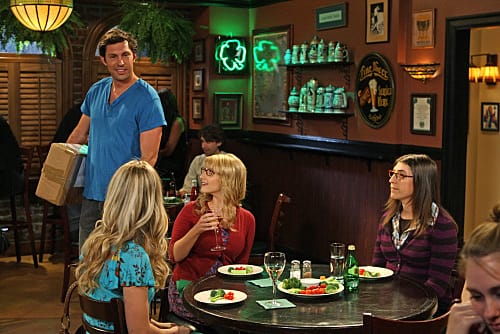 And that's not necessarily Mayim Bialik's fault.  When she's given good lines, her dead pan delivery sometimes works.  The real flaw is with the writing and design of her character.  She's way too much of a caricature.
Take this week's episode, "The Alien Parasite Hypothesis."  We're expected to believe that well into her late twenties (early thirties?), Amy has never experienced sexual arousal or even known what it is.
Over the years, we've been expected to suspend belief plenty of times with Sheldon, as he learned plenty of basic social interactions, but for some reason, this week's episode seemed to ask too much out of me with Amy.  Really?  She couldn't identify such an innate thing as attraction?
All that said, we'd be lying if we didn't say the episode made us laugh.  As ridiculous and unbelievable as the premise behind the A story was, it definitely started off from a very entertaining scene with the ladies going out, an always amazing laundry room scene between Sheldon and Penny and a funny Shamy lunch, as they attempted to dissect the symptoms together.
Once they eventually dismissed the idea of Amy having an alien parasite and settled on her being "horny," Sheldon came up with the same conclusion any guy would: setting her up with Zack.  Well, Sheldon apparently can't get jealous, so sure, why not?  Lord knows the man's not going to do it himself.
We're definitely glad Amy couldn't go through with it.  She's been created in a lab to be with Sheldon.  But then again, we were still happy when the experiment of hand holding with Sheldon failed.  Maybe she was made to be with no one.  In which case, what's she really doing on this show?
The A story was silly and over-the-top.  But it surprisingly worked on us. Meanwhile, the unmemorable B-story of Wolowitz and Raj fighting for who would be the superhero and who would be the sidekick was passable.
It has jokes and broke up the A story quite well.  And it also gave the self-loathing Leonard somewhere to sit around, sulk, and hate what a nerd he is as his friends wrestled in spandex.  Poor Leonard.  It's obvious the writers hate you as much as you hate yourself.
Overall, we're going to give this episode a much higher rating than our words have indicated.  Why?  Because it's a sitcom and in the end it made us laugh. 
Now we'll leave you with our favorite of The Big Bang Theory quotes from the episode:
Wolowitz: He got bit by a radioactive rat.
Raj: Did he get superpowers?
Wolotiz: No, he got five stitches and a tetanus shot. | permalink
Penny: He wasn't intellectually stimulating enough.
Bernadette: Couldn't you just fool around with him and then listen to NPR?
Penny: Wouldn't help. Zack couldn't even spell NPR. | permalink
Amy: Sheldon, I am not going through menopause.
Sheldon: Are you sure? You said that with the testy bark of an old bitty. | permalink
Penny: That's thinking ahead.
Sheldon: The alternative would be to think backwards.. and that's just remembering. | permalink
Eric Hochberger is the programmer of TV Fanatic, so please forgive his mediocre writing. His programming is far better. Follow him on Twitter and/or email him. Just don't request threaded comments. They're coming.