Pretty Little Liars Review: Suspicious of Spencer

Teresa Lopez at .
Pretty Little Liars treated us to another week of beautiful girls in highly dangerous situations on "Careful What U Wish 4," resulting in... very little, actually.
Naturally, the show will draw out the mystery of A for as long as possible, but something more than teasing glimpses would be appreciated. For the majority of the night, the girls hemmed and hawed over how to get the laptop back, which I'm convinced was probably never in Ian's possession.
While this week's episode didn't offer up any new clues about A, it did give me some time to really look at our main characters and how they are handling the stress of this situation (not very well). Throughout the evening, I couldn't help but become a little suspicious of Spencer.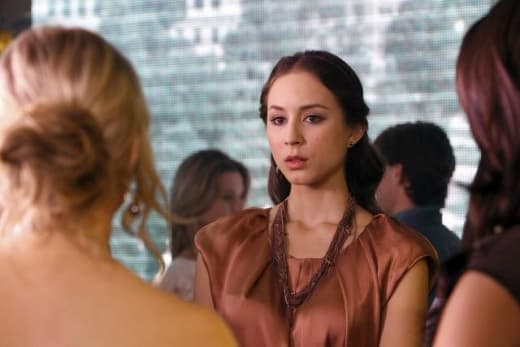 Spencer has always been a headstrong character. Love her or hate her, she's pretty tough and determined. It's always been difficult for me to see the softer side of her, even when she's being all cutesy with her boyfriends, because it always feels so forced.
This week, she really drew my attention when she second-guessed their decision to go to the police with the video and when the time came to deliver it... surprise, surprise, it was missing. She claimed the only place it could have been taken was from her gym locker, a location that Ian had access to. Spencer deftly pushed aside any suspicion on her part by involving Ian, a person no one trusts.
On top of that, she has always been eager to immediately accept any new suspect as Ali's killer. From Jenna to Toby to Ian, Spencer always pushes her agenda. Then, the laptop miraculously appears on her coffee table, covered by some magazines. An object that important to her would have been noticed a lot sooner.
Maybe Spencer isn't A, but I'll bet she had something to do with Ali's death and it feels like the video could point to her involvement. She and Ali were both involved with the same guy around the same time. It seems like a pretty good motive.
Spencer may have been my main focus of the evening, but Hanna definitely broke my heart a little. As a diehard Lucas fan, it was difficult to watch her being forced into leading him on again. She knew what she was doing was wrong, but she didn't even attempt to explain to Lucas that their dances didn't change anything between them.
When Sean told her, "That car broke more than your legs," you could see the anguish on her face. Hanna desperately needs to help her mother, but she should be careful how far she lets A push her. It won't be long before she is "forced" to turn on her best friends. However, Hanna seemed really upset about what she'd done, so hopefully she'll try to make things right in the near future.
Aria and Ezra's relationship has been a nuisance since the beginning, mostly because of all the reasons Aria gave Ezra to explain her jealousy. Aria is just a kid and he would have way more in common with a woman his age than a 16-year old. Or at least he should. Regardless, her childish behavior at the dance really made it clear that she is not ready for mature relationship.
She couldn't even wait until the dance was over so they could talk without a room full of teachers, parents and students!
I wonder what everyone thought of the new kid. He brought a little bit of toughness to the episode and a little mystery, but what's his purpose? Do we really need another stranger with a sneaky hidden agenda? He looks like he might just cause more trouble for the girls, which is exactly what they don't need.