The Real Housewives of Atlanta Review: "Floridon't"
Arlene G. at .
On last night's penultimate episode of The Real Housewives of Atlanta's third season, Kandi's tour bus finally arrived in Miami for her promo tour and the drama was in effect.
Kim and NeNe continued to battle all weekend, while Sheree, Phaedra and Cynthia gathered in Miami for the ladies' "girls only" weekend only to be met with massive chaos.
Cynthia's stress level reached a peak when she broke down at lunch and wanted to cancel her bachelorette party. So how did it all play out as season three builds toward its end?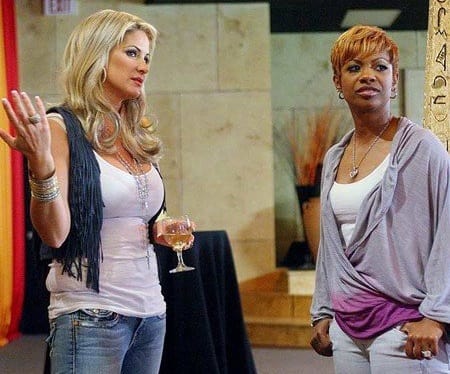 Tensions have been boiling for some time.
Nene was in rare form in "Floridon't," and that's saying a lot.
From the moment she'd gotten on the tour bus, Nene had attacked Kim about her singing, her dancing, her treatment of Sweetie, her wigs, for basically just being alive.
Nene demanded respect and when Kim had told her to shut up that seemed to set off some chemical imbalance in Nene's head. This was a long time 'comin, basically.
Sheree, Phaedra and Cynthia were hoping for the most relaxing weekend ever and had no idea what awaited them when the tour bus finally appeared in the driveway.
A "Big Popppa-esque" friend of Kim's, creepy Thomas, had apparently offered up the use of his Star Island estate for the ladies' to use for their "girls only" getaway.
They were shocked when Nene and Kim shot out of the bus like bats out of hell.
Phaedra felt like she was watching a UFC match. Sheree was stunned at the level of anger Nene was spewing. Nene was all about "slaves and popping eyes out!" 
And Cynthia thought this was going to be a mellow weekend. Surprise!
Upon meeting Thomas, Nene's first words to him were how she couldn't believe he was friends with a whack job like Kim. The other ladies just looked around in disbelief.
We're just getting started, believe it or not. It's going to get crazier from here. Follow the link for MUCH more drama in this review of The Real Housewives of Atlanta ...