The Real Housewives of Season Finale Atlanta Review: "The Bride and the Gloom"
Arlene G. at .
Last night on The Real Housewives of Atlanta season finale, Cynthia dealt with last minute issues concerning the wedding ... namely that no one else was excited for it.
No one seemed to want her to marry old man Pete.
Meanwhile, Phaedra forced herself to return to work, Sheree auditioned for a movie; and Kandi confronted Kim about her diva attitude regarding her "music career."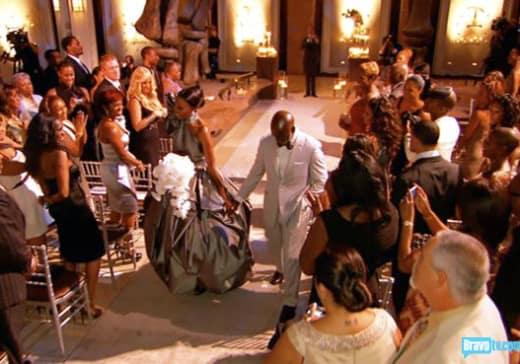 Cynthia eventually did tie the knot before 200 of her closest family and friends at Atlanta's Fernback Museum of Natural History. But before the nuptials, there was drama to spare.
Ladyboy Lawrence made his grand debut as Miss Lawrence at Aurum, a club in Atlanta.
Performing "Closet Freak" for the first time publicly, Nene, Kim, Sheree, and Kandi were all there and blown away by Miss Lawrence. Ladyboy was en pointe! RuPaul better look out.  
Sheree beamed with happiness and Kandi once again noted the difference between Lawrence and Kim's singing.  Kim's in it for fun and Lawrence has a potential career. 
In other words, one can sing and the other can't.
Two days out, Cynthia prepped for the wedding that was now two days away. Broke and panicky, she jokingly suggested the bridesmaids get their dresses at Target.
Fernback required $3,000 for the bar, which Cynthia didn't have.
Maloria, her sister, advised her not to put everything on her shoulders and asked Cynthia if she was sure she wanted to marry broke ass Peter. Cynthia figured if things didn't turn out well she could always divorce him. The perfect attitude to have before a wedding.
Follow the link above for our complete rundown ...