The Real Housewives of Atlanta Review: "Tour-Ture"
Arlene G. at .
Last night on The Real Housewives of Atlanta, Phaedra Parks worried about having Kim Zolciak at her Sip & See baby debut party. Did she have reason for concern?
Cynthia and Peter's relationship, meanwhile, is starting to strain under the pressure of old man Pete's failing business. The recession knows no boundaries, after all.
Nene prepared for her first big celebrity interview with Jermaine Dupri, as Kim and Kandi finally hit the road on their promo tour. Sheree? She was pretty much MIA.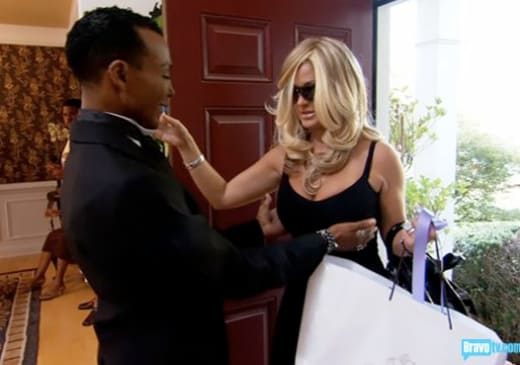 If this week's episode told us one thing, it's that Kate Middleton and Prince William have nothing on Phaedra Parks and Apollo. Seriously. Who's the real royalty?
Phaedra prepped for Aydan's baby debut by hosting a Sip & See party. 
Not only is Phaedra a lawyer/businesswoman/Renaissance goddess but she's also Atlanta's answer to Martha Stewart. Chatting with Apollo, she worried that her guests may merely be attending the party for the gossip material. Aren't we all ...
Apparently, Atlanta is "Haterville" and since Phaedra & Apollo are too fabulous for words, they're on everyone's hit list. The price you pay for being that awesome.
Cynthia and 50-year-old Peter had a tense dinner at home. Sipping wine from a bottle with a twist-off cap, Peter shared his 50-year-old worries with Cynthia. 
We're just getting going in our critique of this incredible, watershed episode of television. Continue on for our full review of The Real Housewives of Atlanta.